I am a big fan of the North Roscommon, South Sligo and West Leitrim region, it has a lot to offer visitors, and is packed full of real gems, hidden and not-so-hidden. Central to this region is the historic town of Boyle, more famous these days for actor Chris O'Dowd's (a Boyle native) comedy series Mooneboy, which ran on Sky TV, as much as anything else. That aside, this quaint North Roscommon town has some very interesting things to see and do and is a great base to explore the surrounding area.
Where is it?
The town is located on the majestic Boyle River (renowned for its fishing) at the foot of the Curlew Mountains west of Lough Key on the N4 between Carrick-on-Shannon and Sligo. Nowadays you can even get there via boat by taking a detour from the River Shannon and passing through Lough Key to dock at Boyle Harbour. The town is also served by the Dublin to Sligo train.
About the town…
The town of Boyle, like many rural towns, bears some of the scars of the recent tough recession. The number of closed shopfronts on some of the streets is noticeable, the most obvious being the Royal Hotel (now up for sale) with its central location right on the river. Emigration too, has played its part in the aftermath of the downturn, jobs are hard come by in this region generally for educated young people, and so many opt to leave.
That said there is still a lot of life left in Boyle and many wonderful things to see and enjoy in and around this historic North Roscommon town. Boyle, due in no small part to its association with nearby Lough Key Forest Park, was a very popular tourist destination back in 80s and before, but it lost its way somewhat until recently. All the attractions that brought people to the area then are still there, and there are more besides.  The locals are keen to put Boyle back on the map, as it were, as a rewarding place to visit.
What's to see…
Take a tour of the well-preserved 12th Century  Cistercian Boyle Abbey, which is now a national monument.When the abbey was built it was a massive construction project for its day, the equivalent in modern times would be say the construction of The Shard in London. Look out for the Sheela na-gig-hidden above one of the central Romanesque arches. It is well worth a visit.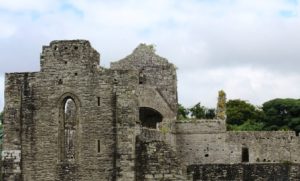 Central to the town is the imposing King House (main image above) an early Georgian mansion which was restored in 1989 after years of neglect. The house was built for Sir Henry King (Lord Kingston), between 1720 and 1740. The King family were one of the most powerful and wealthy in Ireland.
When the family moved to Rockingham in 1810 (where Lough Key Forest Park is now) the house was used as a military barracks. Throughout the 19th century it was the home of the Connaught Rangers and later was passed on to the Free State Army after the Irish Civil War.
The house is now open to the public as a museum, bringing its history to life, and houses the Connaught Rangers Museum and the Boyle Civic Art Collection. At present the house also hosts the McAleese Collection – gifts that the former Irish president received while in office, when on official state visits. Mary McAleese has strong connections with the area and she opened the 27th Arts Festival this year. See http://www.kinghouse.ie/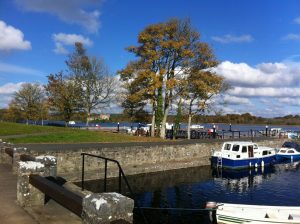 Then there is the nearby beautiful Lough Key Forrest Park and all the amenities there, like camping, boating, walking, zip-lining and the innovative Boda Borg which contains challenging activities and puzzles for adults and children alike.  It is fun place of adults and children alike (I will be doing a separate blog post on Lough Key later) – see www.loughkey.ie
Boyle is also only 17Km from the impressive Carrowkeel passage tombs in the Bricklieve Mountains, turn left at Castlebaldwin on the N4 towards Sligo – see my previous blog post on this.
Hidden Gems…
The little know about Drumanone Dolmen is a fine example of a portal dolmen, and was built before 2000BC. The word "dolmen" is Celtic in origin and means "stone table. Its great capstone, 4.5m x 3m wide, is one of the largest to be seen in Ireland. The Dolmen is located on the R294 about three Km West of Boyle, best to ask a local for the precise location, it stands alone in the middle of a field.
Hidden in plain sight is the impressive five-arch Abbeytown Bridge across the Boyle River close to the Abbey, hence the name. Like the nearby Abbey it was also built in the late 12th Century, it could well be the oldest surviving stone bridge in Ireland. It has been widened but still carries a 5-ton load.
Did you know…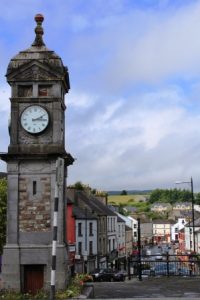 In 1599 at the Battle of Curlew Pass, in the nearby Curlew Mountains, a native Irish force led by Aodh Ruadh Ó Domhnaill (Red Hugh O'Donnell) inflicted a heavy defeat on the English army during the Nine Years' War.
In 1917, Sinn Féin won their first ever seat in parliament for the constituency of Roscommon North, centred on Boyle, with the election of George Noble Plunkett. Plunkett's son, Joseph Mary Plunkett, had been executed by the British in May 1916 for his part in the 1916 Rising. Michael Collins campaigned on the candidate's behalf. A plaque on the Courthouse, on The Crescent in Boyle, commemorates this occasion.
Boyle is said to lie on a ley line and this is offered as one source of the town's culture and tradition of participation in the arts. There is something in 'the water', in other words…
Boyle Arts Festival
The Boyle Arts Festival is a highly regarded event, considered one the best small-town arts festival's in Ireland. This week-long summer festival has been held in the town since the early 90's and hosts a variety of events. The festival has been the winner of several national awards and welcomes new and innovative contributions. Events include a major art exhibition of works by contemporary Irish artists, classical and traditional music, poetry, drama, lectures and children's events. This year's festival ended July 31, see www.boylearts.com for details.
Food and Drink…
Like many Irish towns Boyle has its plethora of pubs. My particular favourite is Daly's on Bridge Street. It often has live music and they have a great array of Irish and International craft beers, stouts and ciders. They are more happy to let you choose one from their off-licence area and drink it at bar. Clarkes Bar is good too, small and old-worldly, and they also serve decent food and a pour a good pint.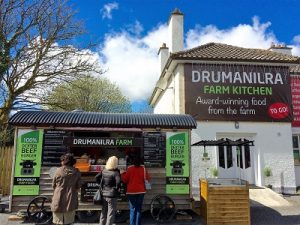 For breakfast, brunch or lunch there is the enterprising Drumanilra Farm Kitchen on Elphin Street.  These produce, sell and serve organic produce like burgers and salads all of which are sourced from their own farm. It is a great idea and the food is tasty too. The Stone House Café located in a charming old building literally on the banks of the Boyle River, it is good too for teas, coffees, soups and sandwiches.
There is also a great little farmers market on the grounds of King House in front of the main entrance, every Saturday morning. I've often spotted Irish fiction writer Kevin Barry browsing there. Here you can buy your fresh vegetables or wonderful, cakes, breads and cheeses from local artisan bakers and cheese makers.
Famous 'Bolyers'…
Boyle is associated with numerous famous people from all walks of Irish life.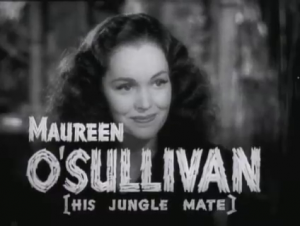 It is the birthplace of Hollywood actress Maureen O'Sullivan who played Jane opposite Johnny Weissmuller in two of the best known early Tarzan films of the early 1930's.O'Sullivan also the mother of another famous actress, Mia Farrow. A bronze plaque marks her home on Main Street in Boyle and opposite nearby King House there is tree ceremonially planted by O'Sullivan to mark her return to her birthplace.
The famous list includes writer Patrick Chapman, Suffragette and women's rights campaigner Margaret Cousins and physician Robert Cryan. Boyle is also the hometown of actor and comedian Chris O'Dowd. O'Dowd filmed segments of his six-part comedy Moone Boy in the town in 2012 and 2013.
Other famous Boylers include, Neville Knott, interior designer and television personality, Irish orchestral conductor Michael Bowles (1909–1998) grew up in Boyle. The writer John McGahern grew up in nearby Leitrim and Boyle is mentioned in several of his books. In his novel The Dark, a scene is played out in the dining room of the Royal Hotel, overlooking the river.
The UFO Society of Ireland was founded in Boyle by the late Betty Meyler. Boyle still hosts an annual conference on the subject.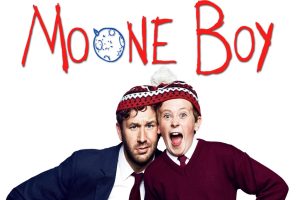 Well-known singer John Reilly also lived in Boyle. He is credited by Christy Moore as a source of several well-known folk standards and cited as an influence by Sinead O Connor and John Hoban.
Other local recording artists include the Grehan Sisters and London-born John Carty is an Irish traditional musician and has lived in Boyle since 2003. He is very interested in the North Connacht traditional music style and was declared Irish television station TG4's 'Traditional Musician of the Year'.
Former President of Ireland, Mary McAleese, has a home near Boyle, as does Emmy-winning actor Brendan Gleeson.
In summary…
Boyle, and its environs, is still a wonderful place to visit. Many of you are long over due a visit to this area. Like I said, it is still charming and full of surprises with loads to see and do, even more than back in the 80s. It will bring back memories for some and create new ones for all…