Where is it and how do you get there?
Inis Meáin (meaning 'Middle Island'), or Inishmaan in English, is indeed the middle Aran Island, and second largest in size of the three. Although the Aran Islands are closer to the Clare coast they in County Galway.
We took the ferry from Doolin in Co. Clare, it's a 40 minutes journey (see http://www.doolin2aranferries.com/trips-and-cruises/inis-meain-trips/ for sailings and bookings) but you can also travel from Rossaveal in Connemara to the islands (see http://www.aranislandferries.com/times_meainoirr.php for ferry details). If you don't like boats you can fly there too with daily flights from Inverin in Galway operated by Aer Arann (www.arearannislands.ie for more details).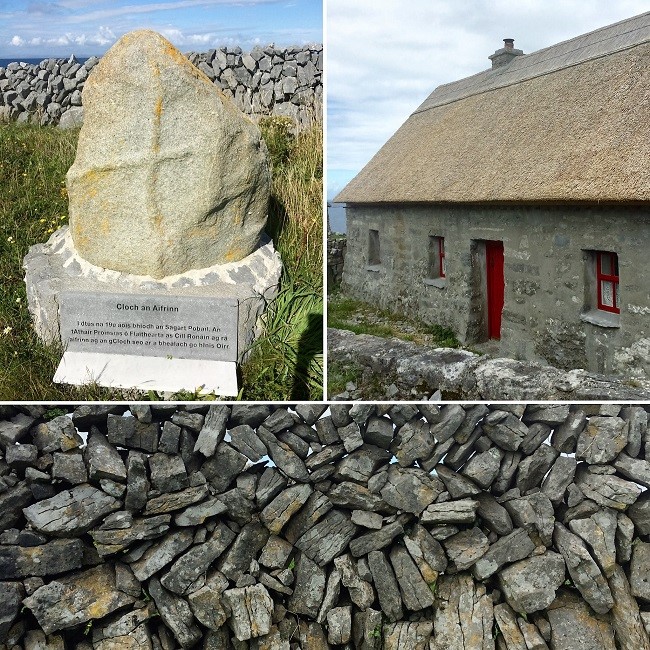 Our Doolin ferry had only one return time at 4.30 so we had lot into cram our day trip. When we disembarked at the island's newish harbour, Caladh Mór on the island's northern side, there was no village or house to greet us, instead a good 20 minute walk before we came across any sort of dwelling cluster, Moore village.
There is the option of a mini bus service to get around the island if you need one. The walk from the pier between limestone-bare fields set the tone – this was a place of zero fuss with its own pace where peace and quiet reigned softly…
Some background…
Inis Méain has a population of about 160, making it the smallest of the Aran Islands inhabitants-wise. It is part of the Gaeltacht and therefore a Gaelic-speaking area. For some reason it is the least visited of the ever-popular Aran Islands. When our boat docked at the island's pier only five of us disembarked, the rest of the packed ferry was set for the larger and popular Inis Mór.
Like the middle child, Meáin probably feels bit neglected, and you got the feeling that the Inis Meáin islanders are okay with that. The place evokes tranquility and has a pace of its own, far from the madding crowds that are often found on its sister islands, especially in high summer. If you crave peace and quiet and a place to get away from it all then Inis Meáin, or Maan, is well, your man…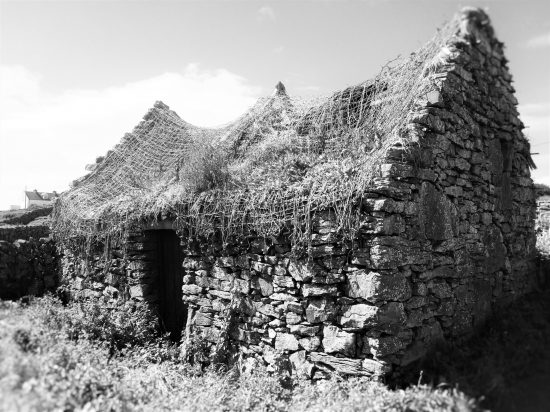 That said Inis Meáin has been tremendously important in terms of traditional Irish culture. The island has been an invaluable reservoir of this disappearing culture since the 1800's. On Meáin our oldest culture was better preserved and lasted for longer than possibly anywhere else, mainly due to its isolation and the spirit of the people who lived in this beautiful, but often tough environment.
Inis Méáin has nurtured manys a great Irish artistic and political soul down the generations. They came here to connect with and experience a purer and simpler Irish culture, language and song, something that had been lost in other Ireland.
What's to see and do…
This is a wonderful place to simply walk or cycle around. There is map at the pier with the various sights so just follow the roads and old sign posts. You can also get a map from the ferry office or at the local shop. I was told that you could hire bikes on the island and it is big enough to cycle round with no great hills.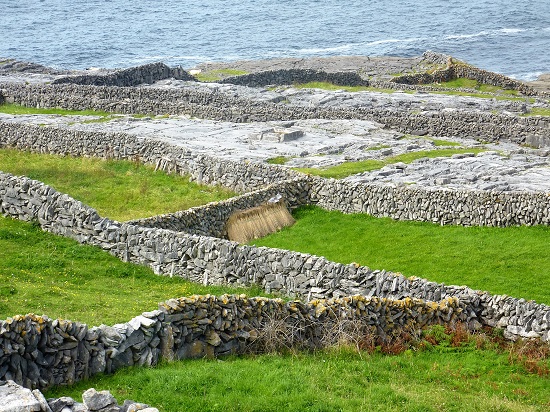 The island is a continuation of Clare's famous Burren and exhibits many of the geological and natural features familiar to that limestone karst region. There are large areas of stripped limestone pavement marked by Grikes and dotted with Erratic's (for those who did Geography in school).
The Flora and Fauna too, are similar to the Burren region and the island supports Arctic, Mediterranean and Alpine plants side-by-side, due to this unusual environment.
The island is marked by an impressive network of thousands of high dry stone walls enclosing tiny empty fields, most cultured by people long gone, and many still maintained by the islanders with grazing cattle and vegetable patches.
There are two sandy beaches on Meáin both in the north of the island. Trá Leichtreach is by far the most popular. Situated between the rocky outcrops near the pier at Caladh Mór this beach is popular with families as it is very clean and safe. There is a much larger beach, about 2Km, behind the airport that looks a little wilder and is nice to walk along.
Historical Landmarks
Numerous examples of early settlements dot the limestone landscape and the island boasts two great dry-stone forts. The pre-Christian oval fort of Dún Chonchúir (Conor's fort) is one of the finest complete ring forts in existence. Built on the island's highest point on the island, this is an impressive stone fort with walls five metres high in places and over a metre wide. On a good day there are great views of Galway bay, Connemara and the Cliffs of Moher from there.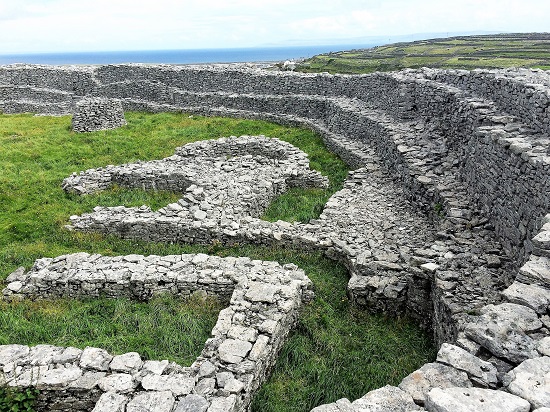 The other fort, Dún Fearbhaí (Ferboy's Fort) dates from the 4th century AD, is unusual in that it is almost rectangle in shape unlike the most of the other older island forts which are circular.
Another unusual old structure is Clochan na Carraige a beehive hut, whose exterior is circular but the inside is rectangular. You will find it tucked away on the road to Synge's Cottege behind a couple of cottages. There is an (old) signpost to the spot, but the stone hut has been 'left to nature' a bit, it would seem.
One of the highlights for me was to visit Teach Synge, or Synge's Cottage, where renowned Irish Playwright John Millington Synge spent every summer for five years from 1898.
The 300 year old cottage was lovingly restored and officially reopened in August 1999 as a museum by another Irish playwright of International renown, the late Brian Friel. One the opening day, surrounded by the islanders and other luminaries of the Irish stage, Friel said of Synge; ""He's the man who made Irish theatre and he's a man before whom we all genuflect."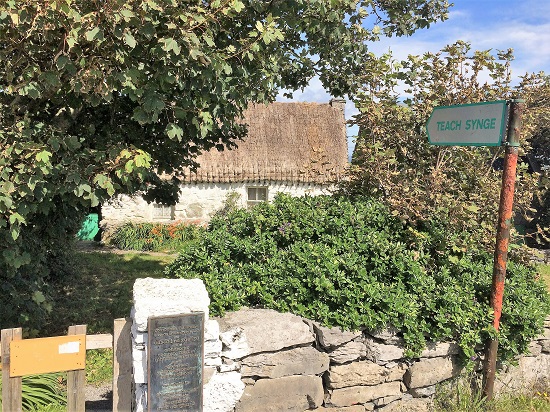 After graduating from Trinity College Synge who was a bit of a hippy in his day, albeit an over educated one, travelled to Inis Meáin on the advice of W. B. Yeats. The experience transformed him. It provided Synge with the material for his most famous plays, Playboy of the Western World and Riders to the Sea.
Interestingly, Inis Méain is also the setting for London-Irish playwright Martin McDonagh's acclaimed The Cripple of Inishmaan. McDonagh must have been channeling Synge, when he wrote his multi award-winning play.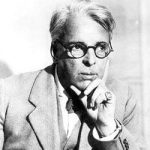 On entering Teach Synge we were greeted by the smell of an open turf  fire. We met Treasa (Ni Fhatharta) whose grandparents Brid and Paidin MacDonnchadha hosted Synge at the house. Treasa gives us a tour of the house-museum and gave us a sense of the history of the place. Inside the house is like walking back in time.
The walls are adorned with photographs, some taken by Synge during his time there, depicting local people. I was taken by two pictures of an island family eviction at the behest of some absentee landlord, even on a wild Atlantic island this was happening back then.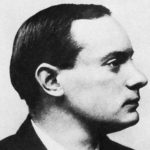 Treasa informed us that the house and the island are important not just because of Synge. Many other political and literary firebrands of the day like Padraig Pearse, Eoin MacNeill and Lady Gregory came to stay, as did Yeats himself in1896.
The Aran Islands were a place of pilgrimage for many involved in the Gaelic revival of the later 19th century. These people along with Synge and others all stayed there at the house at various times during this period. The cottage was known as Ollscoil na Gaeilge then, Eamon de Valera was also a later visitor.
Before you come to Teach Synge visit the island's lovely Church of Mary Immaculate with its magnificent stained glass windows by the famous Harry Clarke Studios. Harry Clarke himself through his art was also contributed to the Gaelic revival movement.
Behind the nearby Priest's house is the site of a 7th century grave Leaba Chinnderig (St. Kenderrig's grave) where it is said a Leinster Princess was buried. The rocky grave is the site of an annual pilgrimage by the locals every August 15.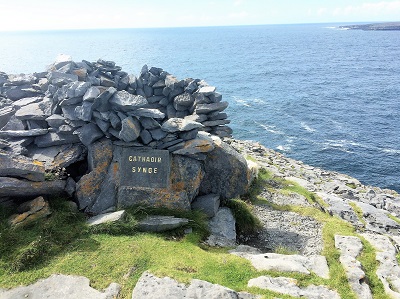 Further west, where the road ends, and along the limestone terrain you will come to the edge of the island's highest cliffs and Synge's Chair (Cathaoir Synge). This is a three-quarter-circle wall of stone resembling a chair, reportedly the writer's favourite place on the island, overlooking Inis Mór and the Atlantic. Rest a while here and take it all in, it is a magical spot.
Food and Drink…
There is a well-stocked shop and post office in Moore village – they even had green beans from Peru on the shelves.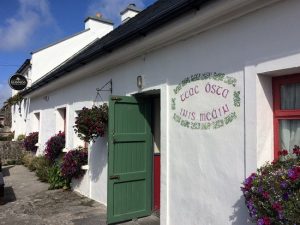 Tig Congaile a well known restaurant and B&B run by a South American woman called Vilma who by all accounts is an excellent chef, and uses local produce imaginatively, she was away on holidays so the place was closed unfortunately.
Further east is the wonderfully quaint white stone-washed Teac Osta the island's only pub where we had tea and nice toasted sandwiches on the benches outside. This is a great place for Irish music on the island.
If it is tranquility, luxury and fine dining you are after then there's Inis Meáin Suites, a Travellers Choice 2013 winner. This hotel is hard to spot initially with its one-level façade of limestone and glass that eloquently blends into the landscape. The hotel and restaurant is run by islander Ruairí de Blacam, who is also the chef and his wife Marie-Thérese.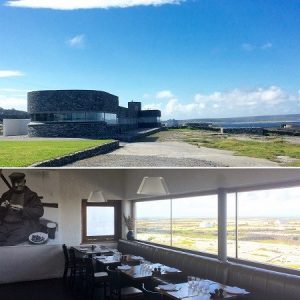 You need to have deep pockets and book well in advance to stay there. It is possible, however, to eat at their restaurant if you book ahead a bit, or just drop in on the off-chance. They too use locally sourced produce and their food always gets glowing reviews. We popped in for a look at their simple elegantly-styled restaurant and to see the menu. It all looked wonderful and something for next time when we are staying for longer.
They also run the nearby Inis Meáin Knitting Company which produces very high quality Aran knit clothing employing local skills. Their knitwear is mostly exported but they have a shop on the site.
On the way back to our boat and near the airport we passed a small hotel, Ostan Inis Meain but it too was closed and this was the end of August?
In summary…
While Inis Meáin is a great place for a day-trip, to really appreciate the island and to tap into the peace, serenity and pace of life there you would need to spend a few days. A vague sense of melancholy haunts the place, maybe it's to do with memories of our old Irish past that reverberate everywhere, or the peace that pervades that makes one feel this way. Walking around this serene Atlantic island causes the mind to drift to onto more soulful plain, in a good way.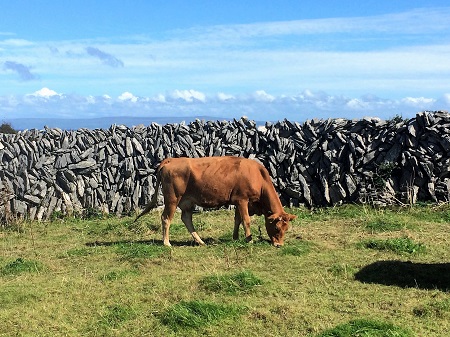 You have to admire the people who are creating a life for themselves there today. They are re-imagining a future for Inis Meáin that is sustainable and in harmony with the surrounding elements of sea, land, rock, wind and rain.
Peace out Meáin…