Belfast city
Cities can evolve at pace when the right social, economic, entrepreneurial and creative conditions are allowed to prevail. These in turn foster progress, confidence and optimism for the future.  This is Belfast today almost two decades after the historic Good Friday Agreement – a modern outward-looking city that is putting its best foot forward in terms of tourism, business and culture.
It has been nearly six years since I was last there for a visit, I really don't know why I left it so long? Perhaps some outdated notions of Northern Ireland and Belfast still linger in my soft Southern sub-consciousness. Then there is the notion that it is somehow further away than it actually is, another fantasy prevalent beyond the border counties. Truth is, it's a two to five-hour car journey from most places in the South or a pleasant two-hour 20-minute train ride from Dublin.
I have come back to a different Belfast even from then; there was no Titanic Belfast experience for starters. The city has also been named the best place to visit in 2018 by Lonely Planet, imagine. I am thinking that Belfast-born Lonely Planet co-founder Maureen Wheeler must have taken some pride in that, something that was unimaginable when she set up the publication with her co-founder husband Tony in the early 70's.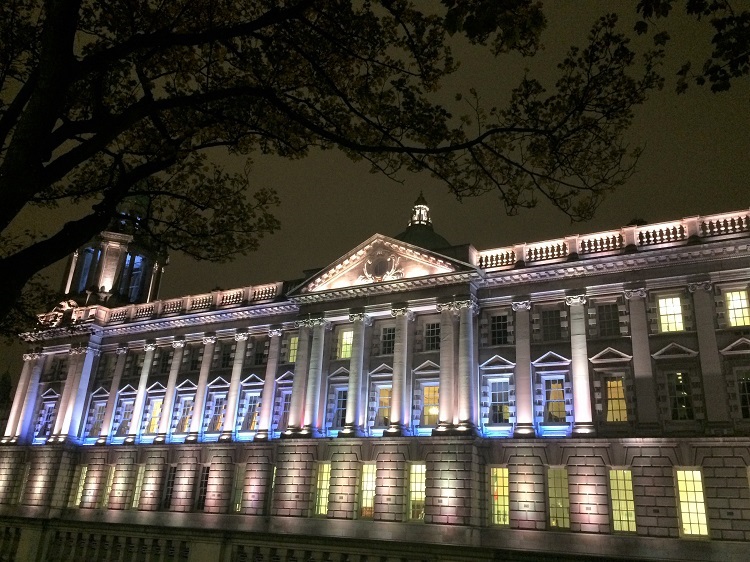 Walking around the city reminds me somewhat of Manchester, this is because both were prominent cities of the British Industrial Revolution in the 19th Century. Belfast was then Ireland's main industrial and largest city and the third largest port in Britain. The thriving linen and shipbuilding industries were at the centre of this booming industrial metropolis. This period reshaped the city permanently and the many fine buildings that still adorn Belfast are an expression of the Belfast's prosperity at that time. The sumptuous City Hall completed in 1906 is the finest expression of this industrial-forged prosperity.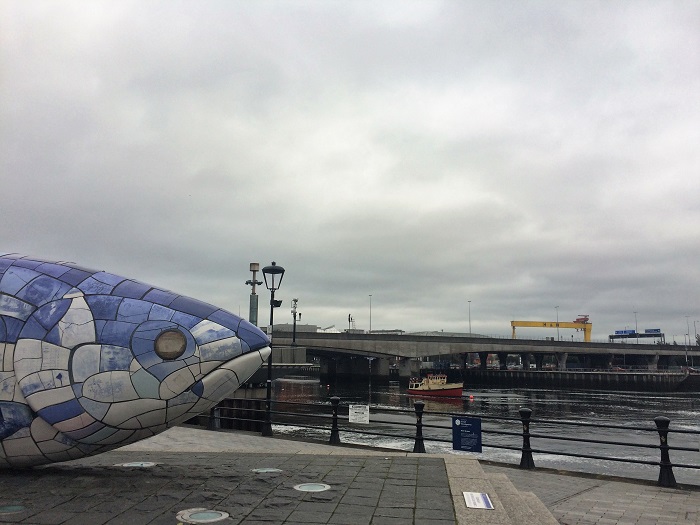 This is what I saw, experienced and enjoyed on my visit to Belfast.
Things to see and do in Belfast
Black Taxi Tours
There are several good companies operating various tours that cater for individuals or small groups of visitors. This is an excellent way to get an insight into the Belfast's troubled past and it will shed some light on the complexities of the situation, or 'sitty-ation' as they say up here. Operators offer a variety of different tours but I would recommend doing a Mural/Political tour.
These tours take you into the heart of the city's two working-class areas most closely associated with 'The Troubles' in Belfast. The Protestant Shankill and centre of Loyalist Para-militarism and the nearby Catholic Nationalist Falls Road area similarly associated with Irish Republican equivalent, the IRA.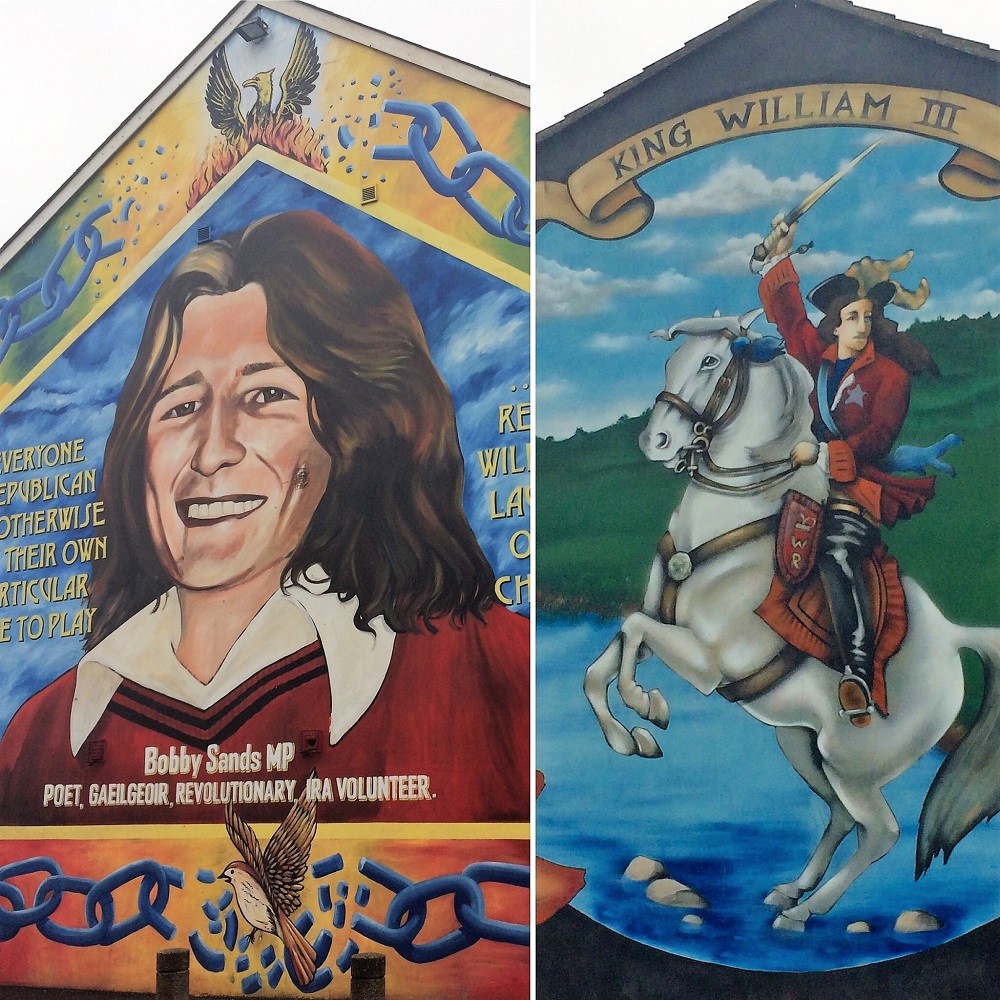 Billy our diver would pull over at various murals, memorial sites and other places of interest and give us the background; this was interwoven with interesting anecdotes and good-humoured banter. The drivers provide impartial commentary on the areas covered sometimes with an ironic eye as things are never black and white when it comes to 'The Troubles', more than 40 shades of grey really (sorry Jamie D).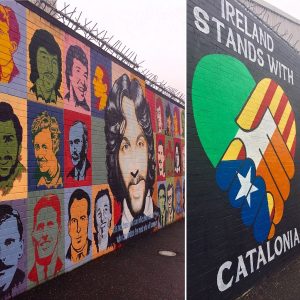 We visited the Shankill, the Falls Road and the Peace Wall dividing the two which has some fascinating murals of all hues, from Che Guevara to the crisis in Catalonia. These Peace Walls were built in the early 70's to keep the Loyalist and Nationalists separated in order to prevent sporadic attacks and retain some semblance of peace and protection.
I would really recommend taking one of these 'black taxi' tours they are fascinating on so many levels. I see that some offer tours given by Ex-Republican prisoners. It's up to you really.
(See: http://www.valuecabs.co.uk/taxi-tours/ and http://www.belfasttours.com/ etc.).
Titanic Belfast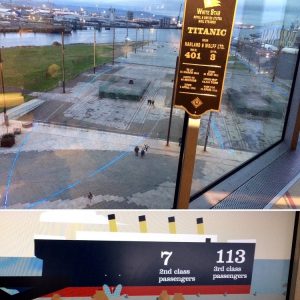 March 2012 saw the opening of this £77 million landmark tourist attraction that is Titanic Belfast. It was built to showcase and celebrate Belfast's incredible ship-building and industrial heritage and to ultimately tell the story one of her most famous creation the ill-fated Titanic, built at the now legendary Harland and Wolff shipyard and launched to sea on May 31, 1911. Titanic Belfast is just 100 metres from where the Titanic herself was built (see image top left).
This is a very modern museum and an epic one at that. It is a must-see for all visitors to Belfast. It tells the story of how Belfast became the third largest port in Britain and Ireland, and the largest city on this island. It explains how important the port and related shipbuilding industries were in terms of the wealth and growth of the city.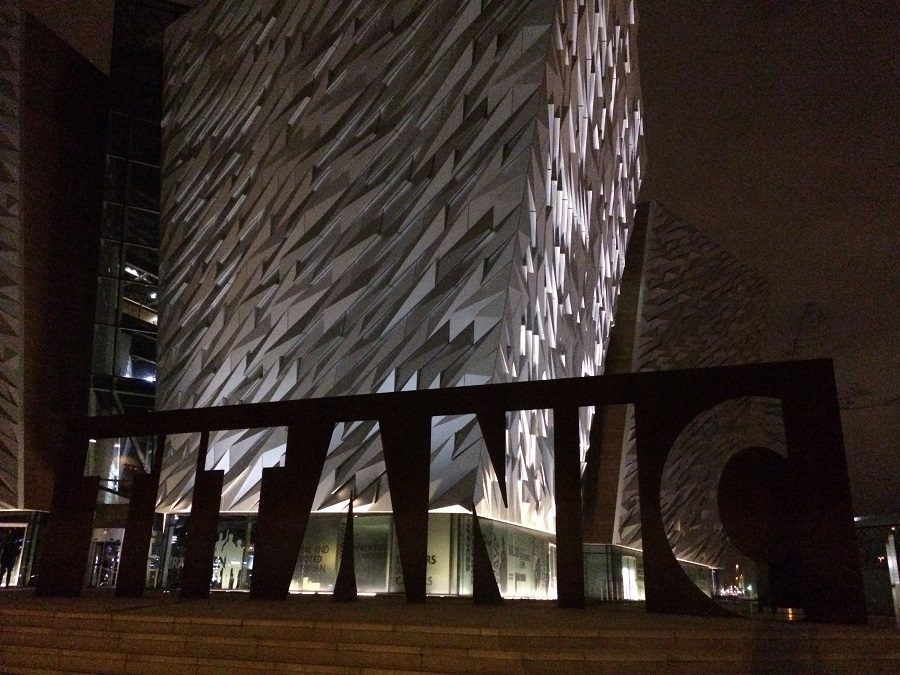 Titanic Belfast traces the city's rise to prominence through the industrial revolution which was driven by the twin economic engines of shipbuilding/heavy engineering and the linen trade. It also covers a lot of the social history of the city around this time, which is very interesting. I would recommend giving yourself three hours to see all at Titanic Belfast otherwise you will be rushed. (See http://titanicbelfast.com ).
Crumlin Road Gaol Tour
There is something about jails; they are repositories, often very dark ones, of a city's social and political history and this especially the case with Belfast given its recent enough turbulent past and beyond. This 19th century Grade A listed jail (aka The Crum) was designed by the English architect Sir Charles Lanyon (yes, he of the iconic Lanyon building at Queens University) in Italian Renaissance style. It was modelled on London's Pentonville Prison and it slammed its heavy doors shut for the last time as a functioning jail in 1996.
It is now is a popular tourist attraction offering 70-minute-long guided tours of the prison. Crumlin Road Gaol was unusual in that when prisoners were sentenced in courthouse (now dilapidated but plans are afoot to convert it into hotel, not a crummy one mind…) directly across the road they were then taken to their place of incarceration via a tunnel between the buildings under the road, and this is explored on the tour, if you not claustrophobic…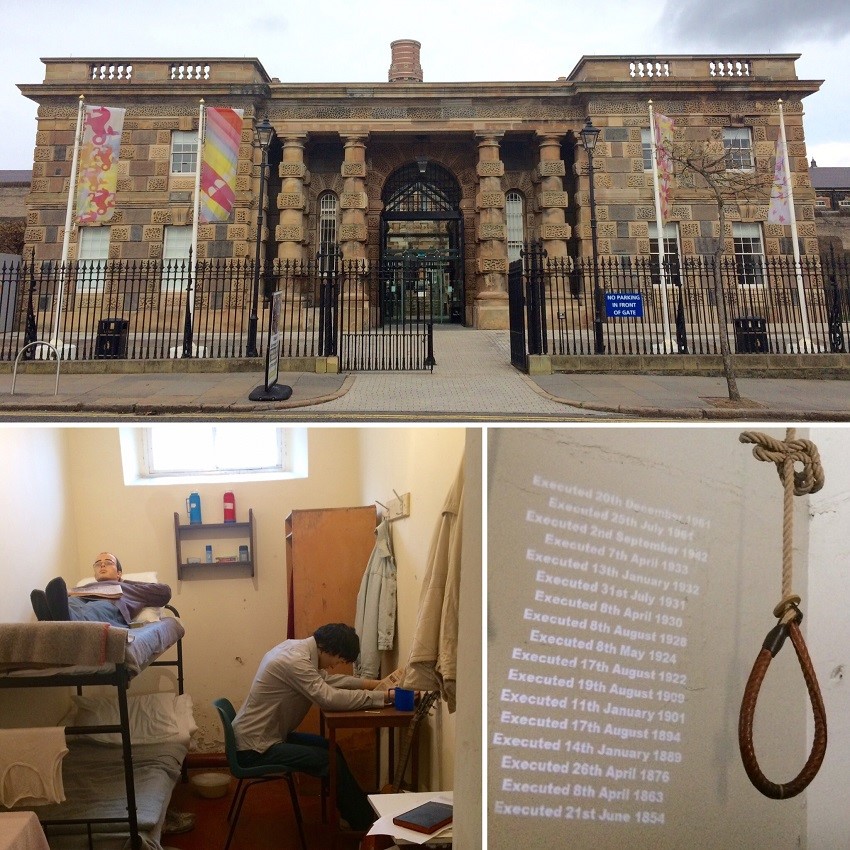 The guide goes through the jail's often bleak 150 years history where you will hear about the murderers, suffragettes, poor children, loyalist and republican prisoners that passed through its black basalt walls or died within. Crumlin has witnessed births, deaths and marriages, escapes, hunger-strikes and riots. It was also a grim site of execution up until the 1960's.
Famous former inmates like Ian Paisley and Martin McGuinness did time at The Crum, as did notorious loyalist Michael Stone and IRA hunger striker and MP Bobby Sands. Indeed, Eamon de Valera (Dev) himself curiously spent a few months there in 1924 after a flouting an order barring him from entering Northern Ireland. He was quoted as saying, "This imprisonment was the worst prison experience of his life", and he knew a thing or two about prisons our Dev. There are many unusual aspects to this prison and it makes for a very interesting visit, right up to the very stark end (no spoilers here!)
(See http://www.crumlinroadgaol.com )
HMS Caroline
This former WW1 Royal Navy light cruiser has been brilliantly and expertly restored as a museum, moored now at Alexandra Dock on Queens Road. The attention to detail and re-creation of the interiors and exterior are remarkable. HMS Caroline saw combat service in the First World War and served as an administrative centre in WW2. She was commissioned in 1914 and at the time of her decommissioning in 2011, she was the second-oldest ship in Royal Navy service, after HMS Victory. HMS Caroline was the last remaining British First World War light cruiser in service, and she is the last survivor of the famous Battle of Jutland still afloat.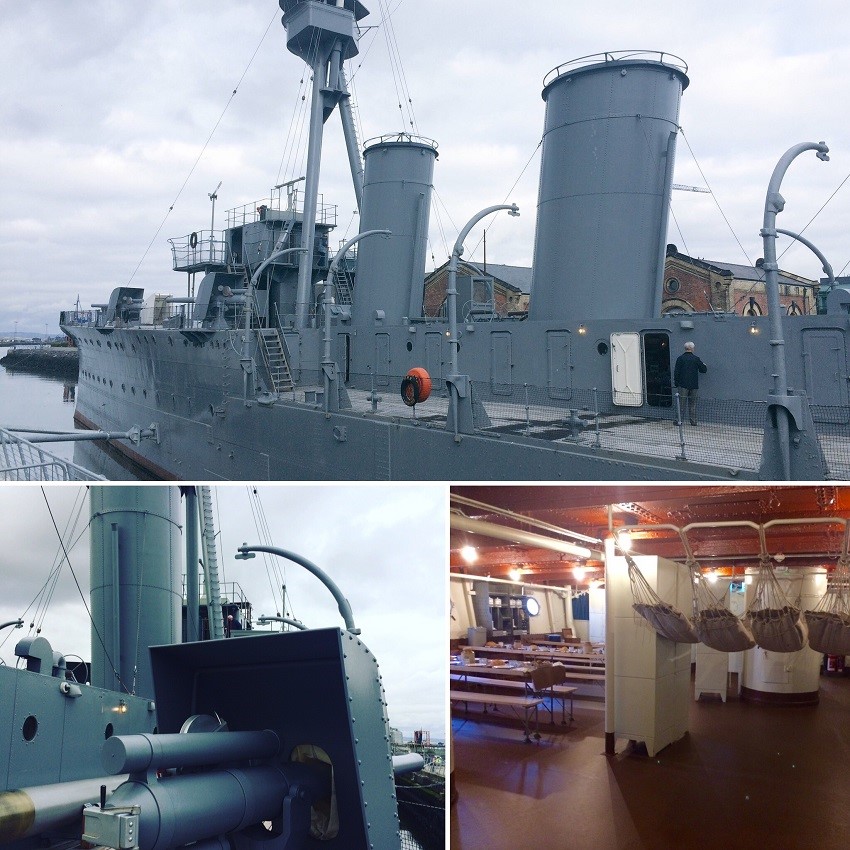 The HMS Caroline Museum will interest people of all ages.  It really brings this short, brutal and important strategic battle in the North Sea to life. The easy to follow self-guided tour gives a real insight into the lives of the top brass, officers and naval men who operated her. Well worth a visit, again I would give it two hours to see it all.
( See www.nmrn.org.uk/exhibitions-projects/hms-caroline-belfast-tourist-attraction )
Queens University and The Ulster Museum
These two sites are located close together on University Road in the south of the city. Queens University is worth visiting to gaze on the wonderful Lanyon Building designed by the aforementioned Sir Charles Lanyon. Take a look around the Great Hall whose walls are adorned by portraits of former Deans and famous past pupils, like Seamus Heaney and Mary McAleese. The university was founded by Royal Charter in 1845and is one of three Queen's Colleges in Ireland, with the others being in Cork and Galway. Queens became a university in its own right in 1908.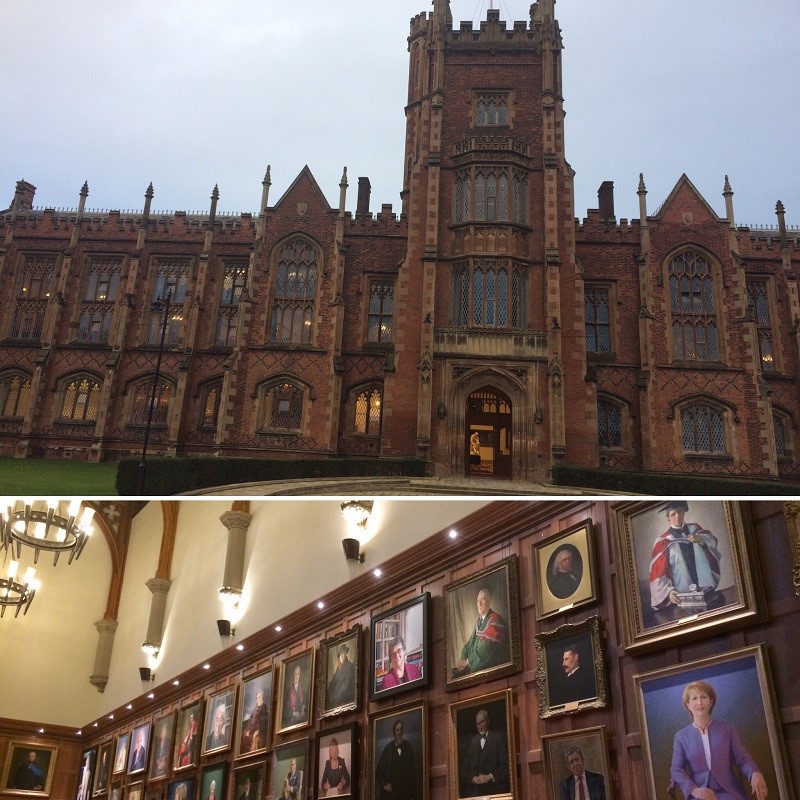 The nearby Ulster Museum is situated in the lovely Botanical Gardens. It is the largest museum in Northern Ireland, and despite being a tad higgledy-piggledy in places it is well worth a visit as it is full of lots of really interesting stuff for all ages to see and enjoy – ranging from fine art and archaeology to treasures from the Spanish Armada. It runs the full gamut from local history including 'The Troubles' to Belfast's industrial archaeology as well as sections on botany, zoology and geology. Something for everyone really and two hours will see most of it, and its free!
(See www.nmni.com/Home.aspx )
Belfast's Quarters
For the benefit of tourism (I imagine) Belfast is now divided into six areas each with their own vibe and interesting things to offer visitors. There's The City Centre (where all the main shopping areas are), the Cathedral Quarter (the trendiest one and where most of the bars and restaurants are), the Titanic Quarter (emerging new waterfront development with Titanic Belfast visitor centre at its core), Linen Quarter (south of City Hall, the old linen mills, great architecture and some chic bars), Queens Quarter (area surrounding Queen's University, with the Ulster Museum and Botanical Gardens, eclectic shops, art galleries and cafes are a feature of this student quarter.
The nearby Lisburn Road has many artisan delis, salons and designer boutiques.) and the Gaeltacht Quarter (this city west quarter is a centre for the Irish language, culture and traditions, the famous Clonard Monastery is here).
City Centre
Here you will find the main shopping areas like Victoria Square with its multitude of high street shops and don't forget to go up to its glass dome which offers 360-degree views of Belfast for free! The aforementioned iconic City Hall is the jewel in the city centre's crown.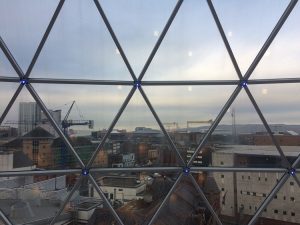 There is also the highly recommended St. George's Market which is only opened Friday to Sunday so we missed it sadly, but we heard nothing but great things about it. It was voted UK's Best Large Indoor Market 2014 by the National Association of British Market Authorities, which is no mean feat when you consider that it was up against London's Spitalfields and Borough markets. St. George's Market is famous for its great local produce and a fantastic atmosphere. I must go there on my next trip here. (See: http://www.belfastcity.gov.uk/tourism-venues/stgeorgesmarket/stgeorgesmarket-index.aspx )
Eating out…
As expected from a vibrant city the place full of cafés, coffee shops and a good variety of restaurants. We mainly ate around the Cathedral Quarter.
For lunch, we ate at Deans Belfast on Howard St.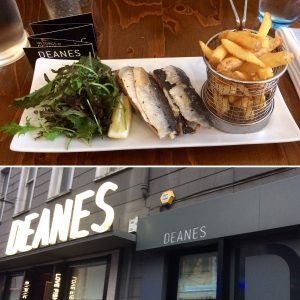 Chef Michael Deane has three restaurants side-by-side here, Love Fish, Meat Locker and his Michelin starred EPIC. We had the lunch menu at the Love Fish restaurant with its cool subtly fished-themed décor, the food was excellent and good value too, we did not need to book either.
(See www.michaeldeane.co.uk/love-fish/ )
We also dined one evening at local favourite Mourne Seafood Bar on Bank Street (See www.mourneseafood.com ). What Mournes lacks in the cool stakes it more than makes up for with oodles of warm atmosphere.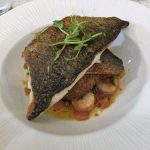 At Mourne's the food is the main attraction and it does not disappoint, their seafood chowder is fabulous and their fish dishes are great too, and they do a mean stick toffee pudding. I opted for a craft beer from nearby Castlewellan, Co. Down called Maggie's Leap IPA ( See www.whitewaterbrewery.com) which was really good and complemented my fish supper.
Also worth a mention if you fancy contemporary Italian food is Coppi (See www.coppi.co.uk) on St. Anne's Square in the Cathedral Quarter, their feta fritters are delicious. If its Mexican food that you have a hankering for, head for La Taqueira (See www.lataqueriabelfast.co.uk) but make sure that they are serving the full menu, the alternative menu that was on when we visited was limited, cool enough place though with that pop-up feel.
For local fare, we were recommended Made in Belfast (See www.madeinbelfastni.com ) but didn't get to go. We did eat there but it looked nice, busy enough and trendy.
For Cafés, there's the achingly cool Established Coffee at 54 Hill Street (See www.established.coffee.com ) and Meil et Moi on the Lisburn Road, a cute French-style café and patisserie (See www.mieletmoi.com ) and worth a visit if you are in this area near Queen's Quarter.
Near Titanic Belfast on Queens Road, there's the laid-back The Dock Café. This is very an unusual place in that it is run by (friendly and chatty) volunteers who serve teas like great locally source Sukí Teas (The company is a Belfast Boutique Loose Leaf Tea Blender set up in 2005 – https://suki-tea.com ) scones and bakes), free wifi too. It operates on an honesty-box policy (see www.the-dock.org/cafe ). We liked it!
Pubs and such…
Since I was here last a number of trendy new bars and hotel bars have opened, but thankfully the city's more famous pubs continue to hold their own and pretty much remain unchanged.
Traditional Belfast Bars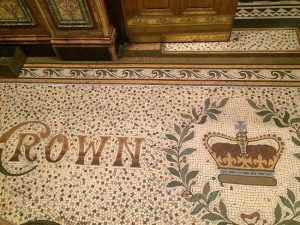 The most famous of them all is The Crown (aka Crown Liquor Saloon) across the road from famous The Europa Hotel (the said hotel was bombed 33 times during The Troubles and it holds the dubious title of "the most bombed hotel in the world"), both are on Victoria Street.  The Crown is the epitome of Belfast's Victorian pubs, with its oak-carved snugs and inlaid coloured glass, built in 1885 it is a marvel both inside and out.
While run as pub it is, in fact, the only one that is maintained by the National Trust and is revered by locals and all who enter its doors. The apocryphal yarn goes that owners wife, a Protestant, insisted the pub and then Gin bar be called The Crown. Her husband, a Catholic agreed, but only if he could also place the name on the ground outside the main door, the rub being that it would be walked on by all who entered, well that's what a taxi driver told me?! (See www.nicholsonspubs.co.uk )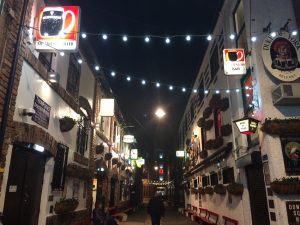 For more traditional Belfast bars there's Duke of York Bar on Commercial Street (See www.dukeofyorkbelfast.com ), a great whiskey pub, chances are if they don't have the Irish whiskey you want there then good luck to you. The interior walls and ceilings are a feast for the eyes.
One of the older traditional Irish bars (built in 1720) is Kelly's Cellars on Bank Street (See  www.kellyscellars.com )in a small square behind the Castlecourt Shopping centre. It has a great atmosphere and is a popular one with tourists – the doorman is a bit of a character and a good man to sort you a cab. Sometimes they have Irish music there.
McHughs (See www.mchughsbar.com ) on Queen's Square, near the Albert Clock, claims to be Belfast's oldest pub and the city's oldest remaining building, built in the early 1700's. Recently refurbished lots of memorabilia adorn its walls. It has live music on the weekends.
Belfast pub gems that serve Craft and good Ales
For Craft Beer, there's The Errigle Inn (See www.errigle.com) on the Ormeau Road. On the same road as the funky Northern Lights (See www.galwaybaybrewery.com/northernlights ) which is owned by the successful Galway Bay Brewing Company which features all the company's beers, a proper craft beer establishment.
Another city favourite is The John Hewitt (called after the poet and socialist) which is located in Belfast's Cathedral Quarter on Donegall Street (See www.thejohnhewitt.com ) opened in 1999 it is owned by The Belfast Unemployed Resource Centre. They sometimes have live music sessions as well.
We also liked the unusual Bittles Bar (See www.facebook.com/BittlesBar ) on Upper Church Lane, just off Victoria Square, with its red-bricked and 'flat-iron' shape, Bittles is a lovely example of a traditional Belfast Victorian Bar. Good beers too.
Modern bars and cocktails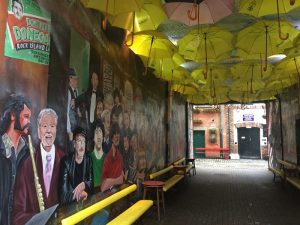 One of my favourite bars on this trip was the enigmatic The Spaniard on Skipper Street (See www.thespaniardbar.com ) with its Latino-themed interior (especially upstairs which looks more like an over-the-top Marion shrine) are very different. Aside from the laid-back cosy atmosphere, the real gem here are their wonderful rum cocktails.
Yes folks, you can keep your Gin, rum is where it is at (and I am not talking what passes for rum in this country, that sugar-sweet Captain Morgans or that sticky Old Sea Dog etc.) we are talking about proper  rums here. Mixed with real ginger ale and other botanicals they are a sensation! Friendly staff too…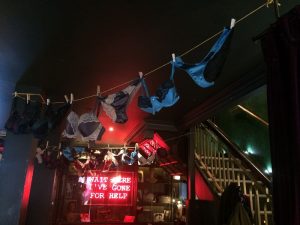 The Dirty Onion is situated on the site of one of the city's oldest buildings on Hill Street. This modern sprawling bar complete with a larger outdoor area is lively on the weekends and full of the happening crowd.
Another good place for gin and cocktails is Muriel's Café Bar on Church Lane (See www.facebook.com/muriels.cafebar/ ), interesting décor too, just don't get yer knickers in a twist, wink, wink…
Other cool cocktail joints include Love and Death Inc on Ann Street, the more exotic Rita's on Franklin Street, or for something trés posh try The Merchant Cocktail Bar at The Merchant Hotel on Skipper Street.
Cool Hotels
There are also a few new cool hotels in the city since my last visit. There's the trendy Bullitt Hotel on Church Lane, the owner Mr. Wolsey, (and the man behind the city's five-star Merchant Hotel) is a big Steve McQueen fan, hence the name, so the place has the intended vibe of laid-back, effortless cool. (See https://bullitthotel.com ).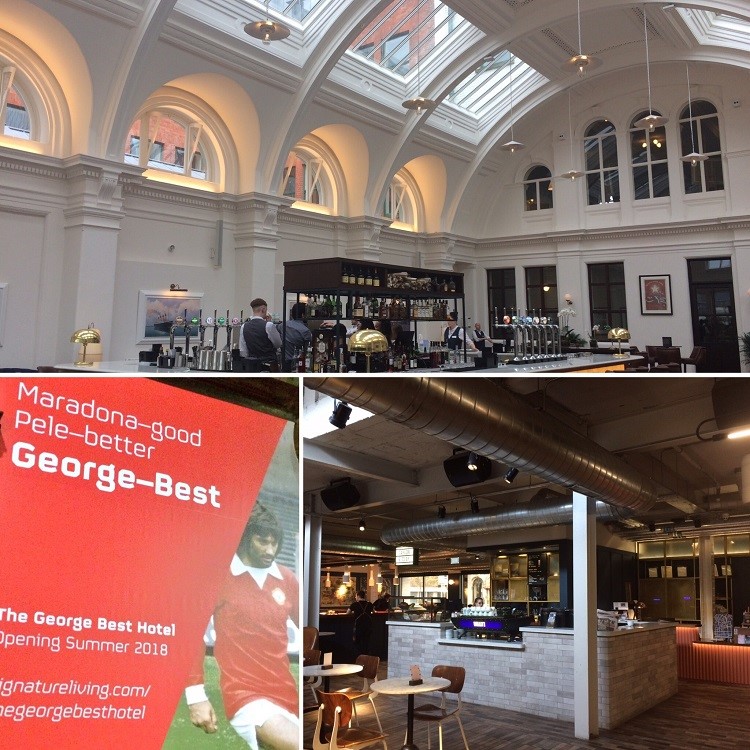 There's new four-star Titanic Hotel Belfast situated in the former HQ of Harland & Wolff with its Victorian Drawing Offices, with their three-storey high barrel-vaulted ceilings, are the only surviving example of this type of architecture in the world. (See www.titanichotelbelfast.com ).
We didn't stay at any of these fine establishments…. Maybe next time, eh?
Shopping…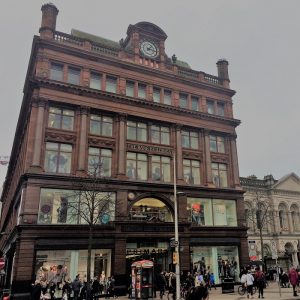 Yes, there's good shopping in Belfast and it's all very centrally located too with the two main shopping malls close together. The larger and more modern Victoria Square (See http://www.victoriasquare.com ) on Victoria Square houses a lot of the premier high-street stores like House of Frasier, Ted Baker, Super Dry, Boss and the likes of Apple.
It also has a cinema and a lot of mainly fast food and coffee outlets like Pizza Express, 5 Guys, Nandos, Starbucks and Costa. Check out the aforementioned 360 degrees Dome for views of the city.
The other main shopping centre is Castle Court on Royal Avenue (See www.castlecourt-uk.com ) and although not as flashy or as big as its neighbour has a fair amount of outlets too like Boots, Miss Selfridge, Dune and Argos, as well as a few fast-food joints.
Belfast has a huge Primark (UK name for 'our' Penneys), pictured above, (See  www.castlecourt-uk.com ) located in a beautifully restored 1900's bank on Castle Street.
Some famous Belfast heads and some quirky facts…
The United Irishmen
It was under the innocuous cover name of "The Muddlers Club" that Henry Joy McCracken and other mostly middle-class Protestants founded the Society of United Irishmen in 1791. They held their meetings Peggy Barclay's Tavern on a Belfast alleyway called Sugarhouse Entry (no longer there, it was destroyed by a German air raid). These men were emboldened by the revolutionary times that they lived in and were dedicated to democratic reform, an end to religious discrimination and greater independence for Ireland.
As a result of intense repression, however, Belfast radicals played little or no role in the Irish Rebellion of 1798. It often is forgotten, and another paradox of Irish history, that the forefathers of Irish Nationalism were well-heeled highly-educated Protestants, like Henry Joy and the most famous of them all Wolftone. Today, the name of The Muddlers Club is back in use, this time as an upmarket restaurant in the Cathedral Quarter.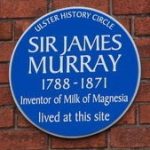 Home of Milk of Magnesia 
Irish physician Sir James Murray patented a production process for 'fluid magnesia' to be used as a mild laxative and antacid know today as Milk of Magnesia. He set up a factory in Belfast to produce the medicine commercially over 150 years ago.
Air Conditioning
While Belfast many not get as humid as a New York City August evening during a heatwave it is the place where this feat of engineering was conceived and first used. Belfast's Sirocco Works invented air conditioning and the Royal Victoria Hospital became the first building in the world to be fitted with air conditioning in 1906.
Milk Chocolate
No, it wasn't Lindt that invented this Irish and British favourite but County Down-born and Belfast educated physician Sir Hans Sloane (London's Sloane Square and Sloanies are named after him). The Cadbury mob later purchased the recipe. Hans was responsible for our fondness for this milky chocolate stuff as opposed to the mature and darker chocolates preferred by our continental neighbours.
Other Belfast inventors and inventions include Professor Sir Frank Pantridge invented the portable defibrillator and Joseph Black, son of a Belfast wine merchant who discovered carbon dioxide, his principles were also used by James Watt to develop the steam engine.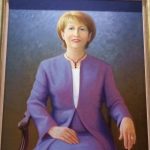 Other famous Belfasters include:
Mary McAleese, former of the Republic of Ireland
George Best, world-famous soccer player, former Manchester United star, European Footballer of the Year and Northern Ireland International.
Alex 'Hurricane' Higgins, the charismatic World Champion snooker player.
Chaim Herzog, Israel's first president was the son of a Belfast rabbi.
Award-winning Poet Michael Longley.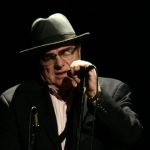 Many great bands and musicians came out, or are associated with Belfast.
Van Morrison, his band THEM, punksters Stiff Little Fingers of Alternative Ulster fame, Brian Kennedy and his brother Bap Kennedy of Energy Orchard and the cool groover Mr David Holmes to name but a few.
Some advice…
While the dark days of The Troubles are thankfully in the past there are still a few small areas of residual tension outside of the city centre, like the Loyalist Shankill area, that are best avoided after dark (especially if you have a Southern Irish accent), yes it's perfectly fine to visit during the day where it is a popular place for tourists to visit. Otherwise, Belfast is a perfectly safe city to go out in and have fun.
Indeed, as part of its "Unbroken Britain" survey — a look into how friendly, welcoming, and polite Britain's cities are — personal finance firm Provident Personal Credit took a look at which British cities are the safest and Belfast ranked seventh ahead of Oxford, Edinburgh, Liverpool, Birmingham and Norwich etc. this gives an indication of the safeness and general friendliness of the city.
For me, I Certainly won't be leaving it as long again to visit this great city that continues to grow in confidence and stature. Oh, and did I mention how friendly the people are, they are great fantastic, friendly and have a wicked sense of humour too!!
Note: A good place for any first-time visitor to Belfast is to head to the Visit Belfast Welcome Centre opposite the City Hall on Wellington Place (See www.visitbelfast.com ) where they will help you plan your visit and answer any questions.