Where is it and how do I get there?
The island of Cape Clear (Oileán Chléire) lies eight miles south of Baltimore West Cork, and three miles east of the solitary Fastnet Rock and lighthouse. The Cape is a mere three miles long and one mile wide and is Ireland's southernmost inhabited island, and part of the Gaeltacht. To the northwest stretches Mizen Head, the mainland's most southerly point. The island is divided into east and west halves by an isthmus (look it up…).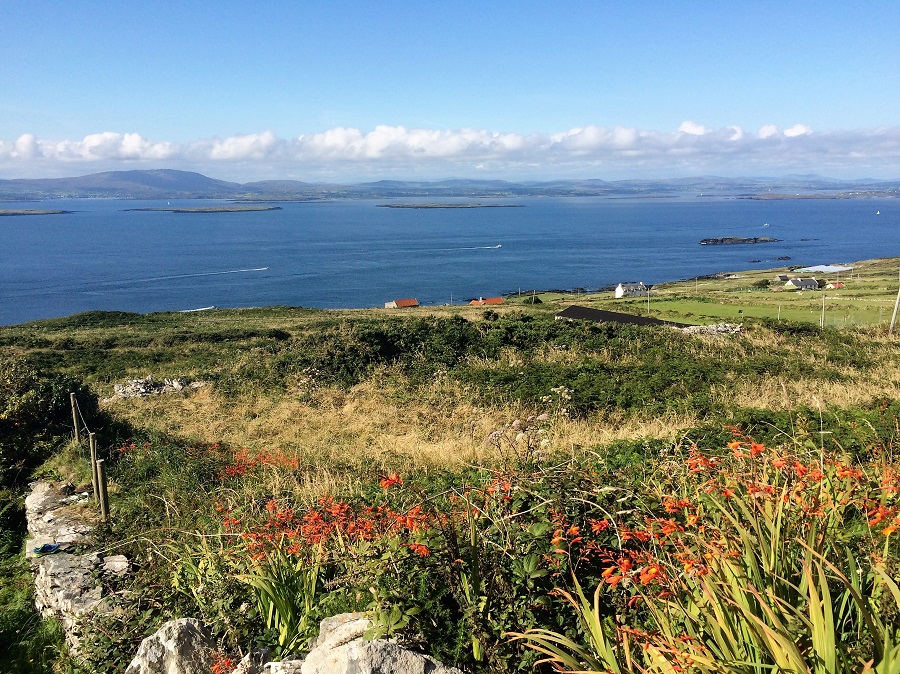 I took the ferry from Baltimore, which has several sailings daily. There is also ferry from Schull during the summer. The ferryboat travels between Sherkin, another popular island to visit, and Heir Island. The island's harbour is flanked by cliffs on one side which makes for an impressive entry (see main pic).
See http://www.cailinoir.com/Timetable or call Cape Clear Island Ferry on +353 28 39159 for sailing times.
A bit of history and background…
The island had a population of over 1,052 before the Great Famine. Today it has around 125 inhabitants, or 'Capers' as they are fondly known. The island's primary school was built in 1897, and today the Island also has two Irish Language schools for students looking to improve their Gaelic-speaking skills.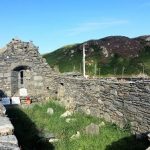 Cape Clear is associated with Saint Ciarán, (Kieran in English) allegedly the earliest of Ireland's four pre-Patrician saints, who was said to be born on the island.  Indeed the islanders gather on Trá Chiaráin each year on the 5th of March to celebrate his feast day. The island also has a number of early Christian sites and the ruins of the 12th century Saint Ciarán's church are by the harbour.
The Cape has various archaeological sites and a prehistoric cup-marked stone (moved to the island's museum), a fulacht fiadh (Bronze-age site where food was cooked) at Gort na Lobhar. There is a Neolithic Passage Tomb at Cill Leire Forabhain, as well as several standing stones around the island.
The 14th century O'Driscoll castle of Dún an Óir (Fort of gold) can be found on the island's western side.
Things to see and do…
Drop into the Tourist Office near the harbour – open from June to September – and pick up a walking trail map and get some general advice. The island's location and roughed natural beauty make it an ideal place to walk and hike. In summer and early autumn its hills and cliffs are carpeted in beautiful Bell Heather. There are some steep hills on the island so be prepared, it explains the absence of bicycles on The Cape.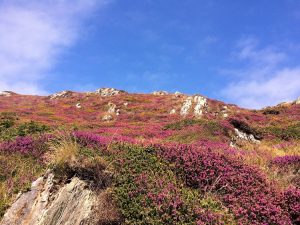 We did the cliff walk which was spectacular, this off-road path snaked through the beautiful heather and wild flower-covered terrain. This hike affords great views of the expansive ocean and of Fastnet Lighthouse in the distance.
The Cape is a haven for Bird Watchers and Nature Lovers, with a host of sea birds using the island for nesting. It one of the best places in Europe from which to see Great Cories and Sooty Shearwaters from the southern hemisphere and Wilson's Petrels from the mid-Atlantic.
The West Cork coast is also a great place to see Dolphins, Porpoises, Basking Sharks and Whales. Dolphins and Porpoises can often be seen from the ferry over during the summer. This year the boat-hand told me that they saw Basking Sharks and Dolphin pods almost every day in July and early August, which was a source of great excitement for passengers. You can book to go Whale watching and sea fishing while on Cape Clear, or from Baltimore.
Whale Sighting Schedule for West Cork
March to May – Risso's Dolphins
March to November – Minke Whales
April to July – Basking Sharks
July to August – Atlantic Sunfish
August to December – Common Dolphins
September to December – Fin Whales
November to January – Humpback Whales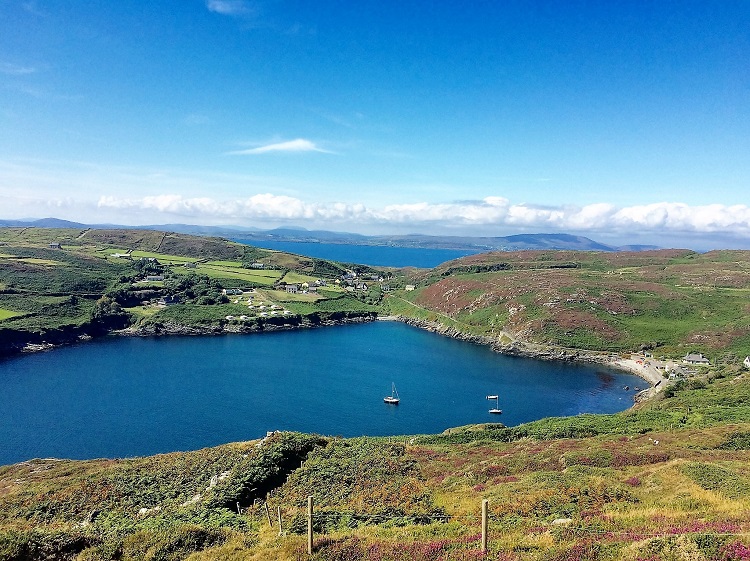 There are no large swimming beaches on Cape Clear just a small one at the end of the harbour which is popular with families.
You can also visit the Cléire Goats visitor farm where they make their own ice cream and cheese using the milk. You can buy these at the farm or at island's shop. There ice-creams are very popular in the summer and come in a variety of flavours. I liked the strawberry as I found some the others a bit 'too icy'.
This eco-friendly enterprise was established in 1979 by Ed Harper (a blind Mancunian). Large groups are welcome by arrangement and goat husbandry courses are offered.  Please contact Ed Harper at +353 (0)87 797 3056 or goat@iol.ie
A good source of information for all thigs Cape Clear is http://www.capeclearisland.ie/
Food, Drink and places to stay…
There just one pub on the island, there use to be two but it unfortunately closed recently. There is also the locally run Club Cléire which is owned and run by Comharchumann Chléire Teo and attracts visiting musicians where impromptu music sessions can occur regularly during the summer months. Live music is programmed most weekends during the summer season and at bank holiday weekends – see http://www.clubcleire.com for more details.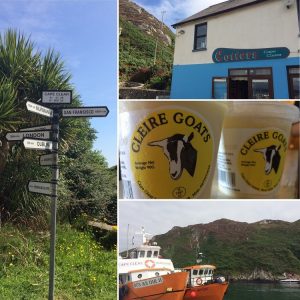 Cotter's bar, now the main pub, is just up from the harbour and is 'Ireland's most southerly pub'. It is open all year round and they have a nice beer garden, Cotter's Yard, in front of the pub. They also serve food and provide accommodation. Check out http://www.capeclearisland.eu/tp/index.php?id=pub for more details.
The only restaurant on the Cape is Séan Rua's and it serves traditional Irish food, it is also a Pizzeria and is located in North Harbour a five minute walk from the ferry. Sean's also doubles as the island's grocery shop, an Siopa Beag (the little shop) and Post Office,
As for accommodation, Cape Clear has several B&Bs, Guesthouses and a Hostel. You can also rent a house or cottage on the island or camp there. See http://www.capeclearisland.ie/Accommodation for details.
Cape Clear International Storytelling Festival
This will be the 22nd year of the Storytelling festival which takes place over three days on the first weekend in September every year. It was founded by American-born Chuck Kruger, who has a house and wonderful garden on the island. It was Chuck who coined the phrase "Ireland is an island off the coast of Cape Clear."
On Cape Clear everyone mucks in to make this unique festival the success it has become, from helping with manning the ferry to putting visitors up during festival time. One of its inhabitants, Seamus O'Driscoll, told us "Everyone pulls together and makes it work. The secret to why people keep coming back is that we have never compromised on getting the top storytellers."
This is a magical event on the island and showcases the best yarn-tellers (or 'seanachai') from Ireland and around the world. Last year's festival saw the island swell to over 750 visitors.
This year's impressive programme includes. Abbi Patrix (France), Kate Corkery (England) and Fiona Dowling (Ireland) are joined by Joel Bin Izzy (USA), who vows: "All my stories are true – some of them actually happened…" The renowned folk musician John Spillane is also playing.
This year's festival runs from September 2-4 see http://capeclearstorytelling.com/ for details.