Welcome to my blog post on the wonders of Waterford City – We visited the Viking Triangle, the Home of Waterford Crystal, the Medieval Museum, the Bishops Palace, Christchurch Cathedral as well as local restaurants, cafes and bars. We also took a day trip out along the Copper Coast and visited the Waterford towns of Tramore and Dungarvan.
Waterford has come a long way as a tourist destination since I was last here last. The city was hit pretty hard by the recession but Waterford has come through tough challenges in the past. In 1495 Henry VII granted the city its motto 'Urbs Intacta' the Untaken City after it had successfully resisted capture by a pretender to his throne. Waterford is showing that same resilience again today, certainly in its bid to attract and retain visitors. It has gone all out to reveal its unique history, its role as Ireland's oldest city and important trading port down the centuries and I for one am very impressed…
There are lots to see and do in Waterford City and it makes for a fantastic weekend break as well as a great base to explore the nearby Copper Coast or the seaside resort of Tramore.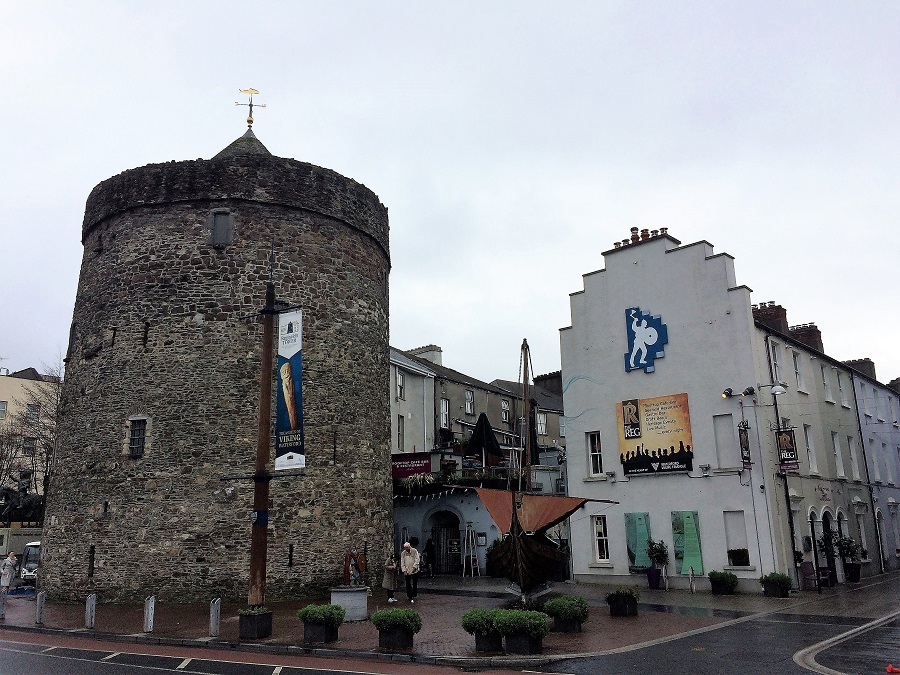 A bit of a Geography lesson…
Waterford is located in Ireland's 'sunny' South East on the banks of the River Suir with the Kilkenny border just across the river and Wexford nearby to the east of its natural harbour at the mouth of the Three Sisters estuary – aka the Rivers Nore, Suir and Barrow. Waterford's harbour is navigable up as far as New Ross in Wexford.
The city is in the news because of its municipal boundaries and proposed extensions thereof. The fact is, like any city Waterford needs to expand outwards radially into its hinterlands in order to grow as a city and compete with the likes of Cork, Limerick and Galway for valuable investment opportunities. This will not go down well with close neighbours Kilkenny, 20,000 acres of which will be annexed into Waterford County if these city limits are extended.
Sure it won't stop anyone saying that they are from Kilkenny or Waterford. People need to see the bigger (City) picture here. I mean the Port of Waterford was re-located a few kilometres downstream of the city to South Kilkenny. Nuff said…
A brief Medieval history…
Yes, Waterford is Ireland's oldest city at 1,103 odd years.  It was first founded by the Vikings in 917 A.D. If you saw any of the TV drama Vikings you will recognise some of the names associated with the city. I won't bore you with an extended history lesson but suffice it to say Waterford has a fascinating past and this is brought vividly to life at the Medieval Museum and other visitor attractions around the city. More on these later…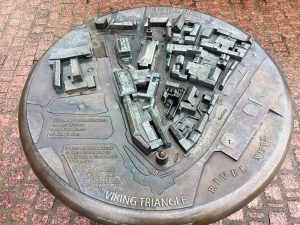 The city was also pivotal in the Anglo-Norman conquest of Ireland. Strongbow (Richard de Clare) married Aoife the daughter of Dermot MacMurrough, the King of Leinster, in Waterford, after he helped the King to capture the city in 1168.
One of Ireland's most famous and beloved paintings 'The Marriage of Strongbow and Aoife' by Daniel Maclise (1806-1870) hangs in the National Gallery today. This marriage and alliance changed the course of Irish history forever.
In 1171 Henry II landed at Waterford with a large army of knights and archers (the first English king to come to Ireland). It was a show of force to impress the growing Norman powers in Ireland at the time. Strongbow and the other Norman warlords duly pledged their allegiances to Henry who subsequently made Waterford a Royal City.
Waterford was historically Ireland's most important port and it was its control of the wine trade in particular that filled the city's coffers. Wine was the most popular drink in Ireland in the 13th and 15th centuries and Waterford controlled much of the trade, it was the country's wine capital trading with France and Spain. Waterford was also a walled city and segments of the walls still remain today.
Things to see and do in the city…
We put in a couple of full day itineraries in the city visiting two of the three main attractions in the Viking Triangle collectively known as Waterford Museum of Treasures. It is recommended that you visit these historical attractions in chronological order starting with Reginald's Tower on the quays. This iconic tower is named after the Viking founder of the city in 914 A.D. It happened to be closed the day we were there.
Medieval Museum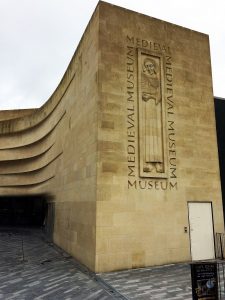 We took a guided tour as I find, depending on the guide, that they can really help to bring history to life, and our lively guide did not disappoint. This modern building was built five years ago at the cost of 10million euros. The museum contains some amazing treasures and real Waterford hidden gems.
This Ireland's only purpose-built medieval museum and the only building on the island to incorporate two medieval chambers, the 13th-century Choristers' Hall and the 15th century Mayor's Wine Vault, the oldest in Ireland. These are both fascinating to see, especially the preserved wine vault.
But it is the incredible 15th century Embroidered Cloths of Gold Vestments and how they were lost for 100s of years and survived Cromwell that was the highlight for me. It's an amazing story and one of the Ireland's real treasures. These are the only church vestments of this calibre and era left in the whole of Europe.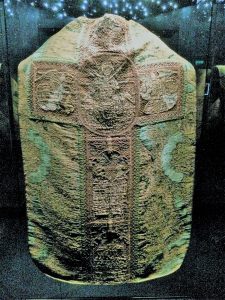 The museum also houses the City of Waterford's Great Royal Charter Roll, another unique medieval treasure. This was started in 1373 for King Edward III it is four metres long and features the portraits of several English Kings. Indeed the Queen came to see on her 2011 visit to Ireland. Waterford's own Magna Carta if you will…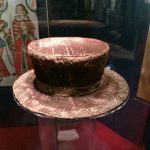 Other cool things to see here are the original Beefeaters hat (aka The Cap of Maintenance), complete with embroidered Tudor Rose, and a magnificent sword given by the infamous King Henry VIII to his boyhood friend Sir William Wyse who was Mayor of Waterford. There are so many wonders to see here you could spend hours.
The Bishops Palace
For a real insight into life in the grand houses of Georgian and Victorian Waterford, the 250-year-old Bishops Palace is a must see. This imposing Palladian building faced on both sides in Leinster limestone is packed full of wonders and curiosities. Our guide for the house tour, sporting a period dress, really brought the story of the house to life for us. The tour takes about 45 minutes and you are free to roam the house at your leisure afterwards.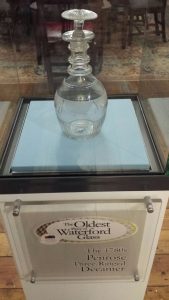 The house contains wonderful examples of 18th-century Irish furniture, glass, silver and paintings some of whom were designed for Leinster House. Other highlights include the oldest piece of Waterford glass dating back to the 1780s and Thomas Francis Meagher (Irish Nationalist and originator of the Irish tricolour, and a former Governor of Montana) memorabilia.
The house has many historical and social stories connected to Waterford down the years. There is also an interesting connection to Napoleon Bonaparte.
See http://www.waterfordtreasures.com/  more information for all three attractions.
Christ Church Cathedral
We had a bit of history over-load so we left the Cathedral to the following day. Situated opposite the Bishops Palace this is also a fascinating place laden with history and stories. It was built in 1733 on the site of the old Viking Cathedral (1096 when they converted to Catholicism) and where 100 years later Strongbow and Aoife were married and changed everything really. By then the Normans had control of the city and built a new medieval cathedral on the site.
Its present incarnation was designed and built by Waterford architect-builder 'Honest' John Roberts who also constructed the Bishop's Palace and many of Waterford's fine buildings in the 1700s. It is the only neo-classical Georgian Cathedral in Ireland and one of the finest examples of 18th century Irish building. Indeed the same Mr. Roberts also designed the city's Catholic Cathedral earning him the unique distinction of being the only man in Europe to design and build both a Protestant and Catholic Cathedral in the same city.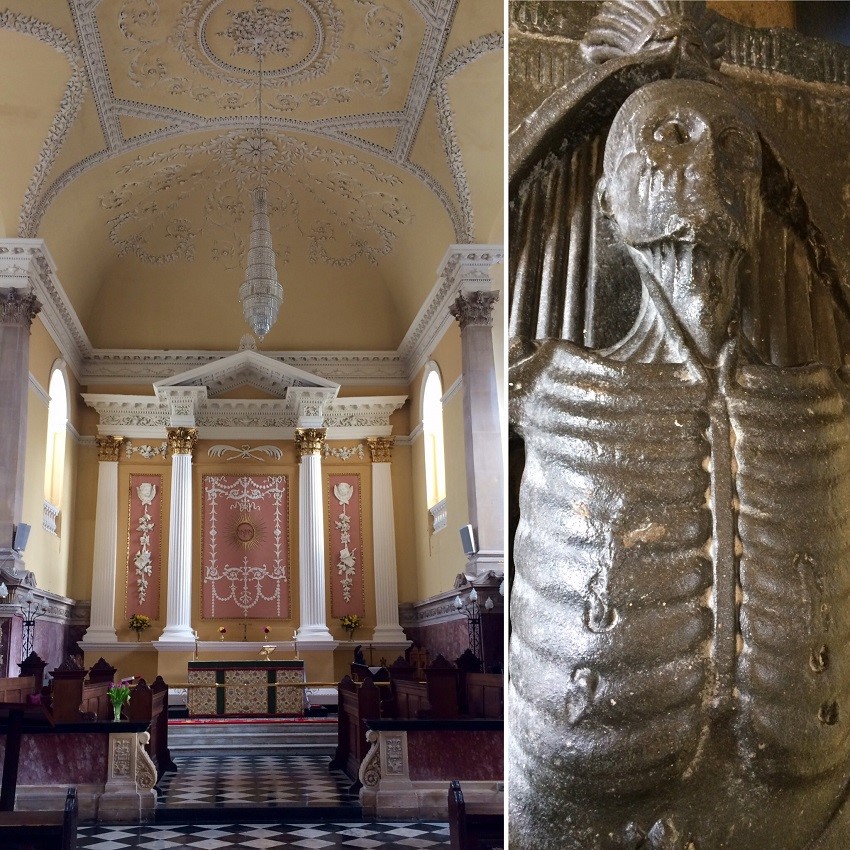 Check out the tomb of 11 times Mayor of Waterford James Rice. He wanted his tomb be a reminder of the brevity life and the transient nature of fame, wealth and power.  It is a tomb like no other displaying a decayed corpse, crawling with worms and with a frog feasting on the stomach. The chilling inscription reads, 'I am what you will be; I was what you are now.' Rice famously walked the Camino twice and his tomb has become a starting point for walkers today.
Also, see the Elliot Organ with its gold-plated pipes wonderfully restored and one of the country's finest such instruments outside of Dublin.
Waterford and its famous Crystal Glass…
Waterford has been associated with glass and fine glass cutting since 1783 when a factory was set up by the Penrose brothers. The story of Waterford glass is a long one with many twists and turns and the company's fortunes have waxed and waned over the years. As recently as 2009 its then owners went into receivership and the factory was rescued and relocated along with a new retail outlet to its current city centre location.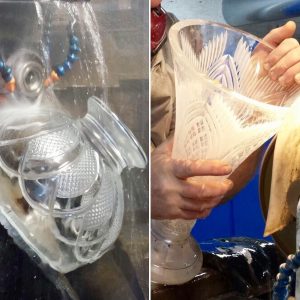 The new Waterford Crystal Manufacturing Facility melts down more than 750 tonnes of crystal and produces more than 45,000 pieces each year using traditional methods. It is a must-see for any visitors. There is a brilliant guided tour of the factory that allows visitors to observe at close quarters the process from start to finish – from glass blowing, the craftsmen's glass cutting skills to the end polishing. After the tour peruse the attractive retail and display area and marvel at the level of craftsmanship on display.
There is a great guided tour of the factory that allows visitors to observe at close quarters the process from start to finish – from glass blowing, the craftsmen's glass cutting skills to the end polishing. After the tour peruse the attractive retail and display area and marvel at the level of craftsmanship on display.
Check out https://www.waterfordvisitorcentre.com/ for more information.
Eating and Drinking…
Well, there are fair few places to eat and drink around the city and we got to sample some of these during our stay.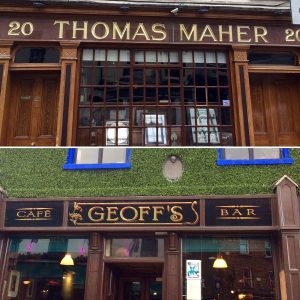 Arriving late on our first evening we stumbled upon Café Goa an Indian restaurant on the Quays, after quick TripAdvisor check we decided to eat there. While it looked a tad dishevelled the food sure wasn't. It was very good indeed. See http://www.cafegoa.ie/
During our visit we enjoyed a light lunch at one of the city's more famous watering holes, Goeff's Bar. This is an atmospheric sprawling bar and lounge with cosy wooden interiors. While the food was good the service was a bit vague… and known to be so locally.
See https://www.facebook.com/geoffscafebarwaterford/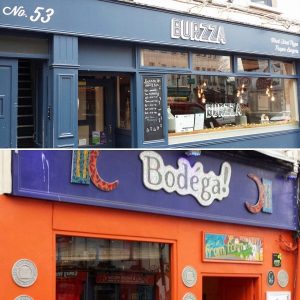 We also ate at Burzza a smart-casual restaurant that specialises in burgers and pizzas, hence the name. Its signature dish is 'the burzza', a burger wrapped in a pizza – shock horror! I am
I am sucker for a properly made pizza and when I hear of wood-fired ovens and thin crust bases made with proper Italian flour and I'm there, and Burzza did not disappoint. The Bodéga next door also came recommended. See http://www.burzza.com/
For our big meal out we choose to eat at the Zaks Restaurant at the Athenaeum House Hotel, a short drive over the bridge on the other side of the water in the wonderfully named Christendom. The food was fantastic and the service was warm and graceful, like the restaurant's atmosphere. We choose from the Table D'Hote menu which was top value at €27 for three excellent courses.  I highly recommend Zacks for something a bit special.  See http://www.athenaeumhousehotel.com/restaurant
For a few beers we headed for Tully's Bar on O'Connell Street (See https://www.facebook.com/tullysbarwaterford/ ). I had researched the place beforehand so knew that it was a haven for craft beer and quality spirits. A haven it was, stocked with a variety of great beers from the local Metalman microbrewery (See http://www.metalmanbrewing.com/ ) named after a large cast-metal figure pointing out to sea, set on top of one of three pillars near Tramore.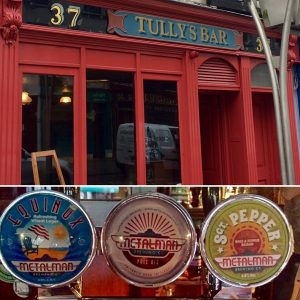 The actual Metalman was erected in 1823 by Lloyd's of London to warn seafarers of dangerous shallow waters. There were three Metalman beers on tap as well as a host of others craft beers from a variety of brewers. I had their flavoursome IPA, which went down with considerable ease.
We also sampled some of Waterford's award-winning gins like Thin Gin, voted best Irish gin in 2015. We also had a few exquisite gins from The Blackwater Distillery from the nearby town of Cappoquin (See http://blackwaterdistillery.ie ). These are also makers of Boyle's Gin, among others, (called after the father of Chemistry, Robert Boyle who was born in nearby Lismore Castle) which won Irish Gin of the year last year and is currently available in Aldi.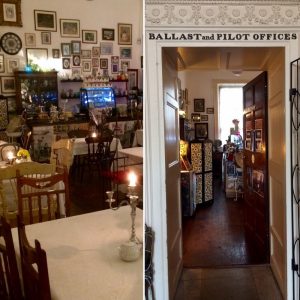 Other pubs that were recommended to us by locals were Thomas Maher's on O'Connell Street and Jordan's Bar down on Parade Quay.
We also went for afternoon tea at charmingly delightful Parlour Vintage Tea Rooms in the Old Port of Waterford building on Georges Street. It was like stepping back in time and its two spacious high-ceilinged teas rooms are filled with curiosities and furnishings from bygone eras. The tea and Victorian lemon cake we had were also scrumptious.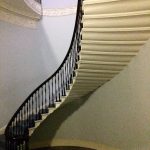 The building itself is interesting too, constructed in 1795 to designs prepared by Waterford's famous Georgian architect John Roberts. The building retains its original form and character both exterior and interior. Ask to see the exquisite spiral staircase with its glazed dome overhead, it's a real hidden gem. See https://www.theparlourtearooms.com/
Things to see and do nearby…
If you have time and plan to be in Waterford for a few days then I would recommend a quick trip west along the Copper Coast or maybe hire a bike or walk the new Waterford Greenway which stretches from Kilmeaden to Dungarvan. The Greenway has many things of interest to see like the eight-arched Kilmacthomas Viaduct and the iconic fully brick lined Ballyvoyle Tunnel.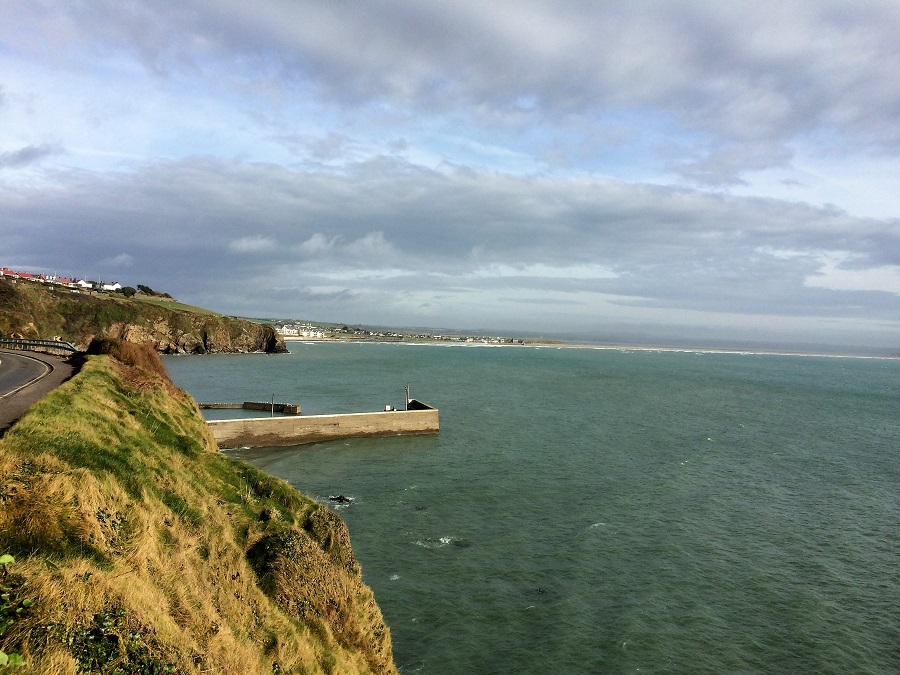 We took a drive out the Cooper Coast route via the Waterford's popular seaside resort of Tramore. This is always a busy place especially in the summer months and has all the trappings, good and not so good, associated with a popular family seaside resort. There are loads of activities available from surfing to horse riding and everything in between including water parks for kids.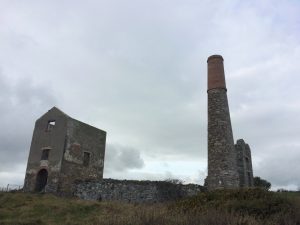 Continuing west from Tramore we skirt the coast following the Copper Coast route. Back in the 1900's this area along the coast road from Tramore to Dungarvan was mined extensively for copper.
It reminded of Cornwall especially at Tankardstown near Bunmahon. Here an abandoned copper mine and chimney stand testament to the areas mining past. In nearby Bunmahon stop at the outdoor Geopark where you can tip-toe through the Copper Coast's various geological events over 460 million years as told by the rocks themselves. Yes talking stones (just kidding).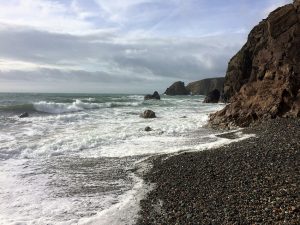 The Copper Coast drive is punctuated by picturesque and interesting small coves and beaches. We visited Kilmurrin Cove, Knockmahon & Stage, Ballydowane and Stradbally Cove each with their sheltered crescent-shaped beaches, cliffs and interesting rock formations. They look like great spots for a swim in warmer weather.
We kept driving to the harbour town of Dungarvan as there was nowhere else to eat along the route. After a late lunch and took a leisurely 40 minutes' walk along Davitt's Quay before heading back the main road to our base in Waterford City. This is near the town's historic quarter by Dungarvan castle and celebrity chef Paul Flynn's Tannery restaurant and overlooks the picturesque harbour.
Check out https://coppercoastgeopark.com/  and  http://waterfordgreenway.com/ for more information.
A city of firsts and other curiosities…
Ireland's oldest city and port.

Some of the many historical plaques that adorn the city's buildings.

Reginald's Tower is the oldest urban civic building in Ireland and the oldest monument to retain its Viking name.
The Medieval Museum is Ireland's only purpose-built medieval museum.
In 1171, King Henry II landed at Waterford with a large army it was the first time an English King set foot on Irish soil and marked the beginning of English rule in Ireland.
The Irish Tricolour flag was first flown publicly by its originator Waterford Nationalist Thomas Francis Meagher at the Wolf Tone Confederate Club at 33 The Mall in the city on March 7, 1848.
Original Beefeaters Hat and the only piece of Henry VIII's wardrobe to survive anywhere in the world is in the Medieval Museum.
Waterford has two of Ireland's Best Irish Gin Award Winners.
Waterford has the unique distinction of being the only city in Europe where the Protestant and Catholic Cathedrals were conceived by the same man.
I was really blown away by the history and wonders of Ireland's oldest city, it is certainly a distinctive and important (blue) jewel in the crown of Ireland's ancient East and a city well worth a visit any time of the year.