The West Cork town of Bantry lies at the head of the expansive Bantry Bay, one of the deepest natural harbours in Europe. It is pretty west, even for West Cork and this factor has shaped Bantry down the generations. While the town may not be as postcard-pretty as its more touristy West Cork neighbours, Clonakilty and the swishy Kinsale, but it has a realism and honesty about. Bantry has a different vibe and pace compared to other towns along Cork's WAW.
Bantry sits between the imposing Beara peninsula to the northwest where Hungry Hill and the Sugarloaf stand over the bay, while the smaller, but no less wonderful, Sheep's Head peninsula reigns to the south. The town's harbour was long overdue some investment and work is underway on a new 20-berth marina, this will be a great boost to local tourism and marine industries.
A brief history…
Bantry is among a few areas that claim a connection to Saint Brendan the Navigator (who according to lore was the first person to discover America) and his splendid sculpture is poised at the end of Wolftone Square, arms stretched looking outwards towards the bay.
Like Ballina, Bantry also has a strong connection with rebellion, the United Irishmen and France. Here in December 1796 Wolftone and a French Armada led by Hoche consisting of 43 vessels under sail and 14,000 men tried to land at Bantry to join with the United Irishmen in the hope of sparking a rebellion across Ireland against the British. Much to Tone's disgust, the French could not land off Bantry Bay due to severe weather and they eventually returned to France. You have to wonder why they choose the dead of winter to attempt such a daring undertaking.
During the Irish War of Independence, the 5th Cork Brigade of the Irish Republican Army was very active in Bantry, and many members remained so during the bloody Civil War that followed. The British forces resorted to firebombing several buildings in the town as a result. The names of those who died between 1920 and 1923 "In Defence of the Republic" are listed on the wall of the former Court House in Wolfe Tone Square.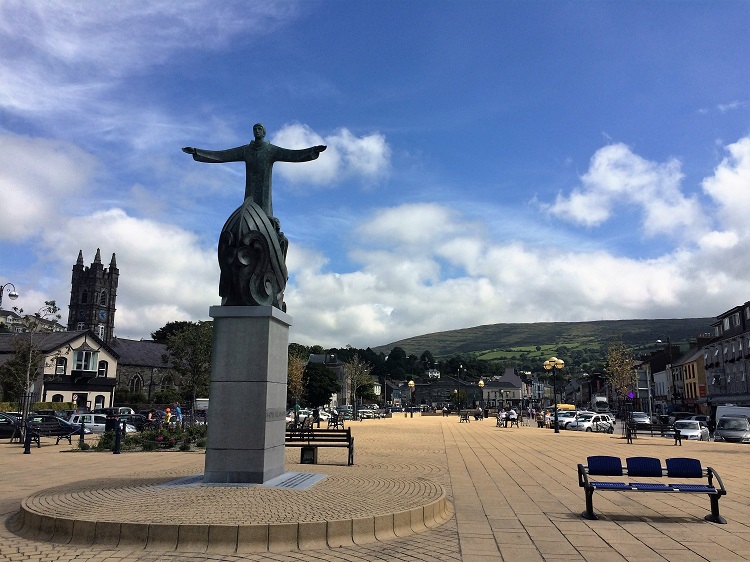 In more recent times Bantry is synonymous with the nearby Whiddy Island Disaster of 1979. The island was the site of an important oil terminal, originally owned by Gulf Oil. On January 8 the oil tanker Betelgeuse exploded, killing all 42 crew members, as well as seven employees at the terminal. The jetty was seriously damaged, but the storage tanks were not affected. The terminal, which had been operational since 1969, was never fully repaired and many locals lost their jobs as a result of the disaster.
The site transferred to the Irish government in 1986 and is now used to hold the Irish strategic oil reserve. The sheltered waters between Whiddy and the Bantry now provide an excellent haven for mussel farming, an industry which is now a great local success story. Many of you have eaten or at least heard of 'Bantry Bay Mussels'.
About the town…
Bantry is a sizable county market town at the end of the day, servicing a large catchment area, including Beara. It is no longer a big fishing port and the aforementioned mussel farming has replaced this activity. Nowadays, tourism forms one of the main drivers of Bantry's future as it is an ideal location to explore the nearby peninsulas and the rest of the bay. The town itself is well-equipped with hotels, hostels and B&Bs.
It has a large Supervalu with (long overdue) plans afoot for another supermarket, in the form of Lidl, expected to open there some stage soon. Bantry is a town on the up despite some post-recessionary evidence like empty shop fronts dotted here and there. There are now many thriving new businesses in the town, especially cafes.
Every Friday from 9.30am to 1pm the town is a hive of activity with the Bantry Market in Wolftone Square, it also spills out into nearby streets and carparks. It is one of the larger West Cork markets and a good place to buy your organic fruit and veg, breads, cheeses, fish, honey, preserves, local crafts and assorted bric-a-brac. Many of the sellers are local artisan producers. Indeed, the regular Friday market gets even bigger on the first Friday of each month (the traditional Fair Day). On days like this, it's not unusual to see donkeys tied to lampposts and cages full of various fowl for sale.
Bantry also has as a somewhat 'alternative' undertone to it, some would say 'hippy-vibe', especially on market days, which has shades of London's Camden market to it, and it is all the better for it. Bantry like much of West Cork has a more cosmopolitan feel than similar-sized Irish towns with many non-Irish choosing to live there, going back years. This all adds to the colour, variety and vibrancy of the place, especially during the summer months.
Things to see and do in and around Bantry…
There is a wealth of things to see and do in and around Bantry and being a coastal town there are of course a host of water-based activities to avail of. See http://www.bantry.ie/things-to-do.html for more information on local sailing, fishing and diving. Due to areas geography, there are no real swimming beaches around, the nearest proper beach is Barlycove, a good 45 minute drive away on Mizen.
There are however several swimming spots in Bantry. Local families use the nearby shallow beach The Beicin, a short walk from the square- it has a small beach when the tide is out. Another swimming spot is past the main pier and Bantry House and before the graveyard. It is popular with younger people (mainly), they swim off the pontoons there. On the way to Ballylicky out the N71 there is Snave Pier which is a good spot to dive in for a swim. There are other good places to swim and snorkel on Beara near Adrigole.
Bantry House and Gardens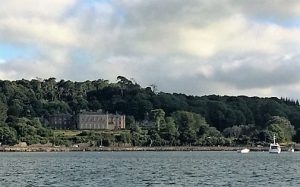 This is the 'grand old house' of the area and has been in the White family (originally from Whiddy) since the mid 1700′s and it is still lived in and managed by decedents of the family. The gardens of Bantry House were developed by the second Earl of Bantry and his wife Mary, inspired by their European travels.
The gardens are fantastic and well worth the visit alone, they feature seven terraces with the house is located on the third. An interesting feature is the 100 stone steps located behind the house these were built to appear to rise out of a fountain and are surrounded by plants like Azaleas and Rhododendron. The summit affords wonderful views of the Bantry Bay, house and gardens, and well worth the steep climb.
See http://www.bantryhouse.com/ for more details on the house and opening times.
Bantry Blue Way
The is a wonderful new initiative launched last year for canoers or kayakers to follow trails of varying lengths around the bay and islands.  You can start your trip at the Abbey Slipway and can choose either the two-hour trip (Blue Trail) or the longer Red Trail – three-hours (nine km), this one is for more experienced canoers/kayakers. See http://www.bantrybayport.com/bantry_blue_way_trails for details.
Sheep's Head Peninsula
A short drive east of Bantry you will see signs for the Sheep's Head peninsula. The Sheep's Head Way was a winner of the Waterford Crystal Walker Award and chosen as the 'Best Walk in Ireland' by Country Walking magazine. This 200Km series of looped walks of varying lengths offers a huge variety of wild terrain and wonderful coastal scenery no matter which loop you choose.
There is also the splendid 'Ring Drive' around Sheep's Head starting outside Bantry along the 'Goats Path' to Kilcrohane, back then through Ahakista (stop off at the poignant Air India Memorial), then onto the pretty village of Durrus, famous for its cheese. The Sheep's Head peninsula has two contrasting sides. There is the wilder north side with its sheer cliffs and stark beauty (the sunsets can be spell-binding) compared to the lusher south side which is more populated and where the road runs right alongside Dunmanus Bay.
Whiddy Island
The aforementioned Whiddy Island is also a great place for a day trip and forms part of the Bantry Blueway Trail, plus you get to go on a ferry ride from Bantry into the bay. The short boat over is a delight with lovely views of the town and the Beara peninsula. Whiddy is ideal for walking with its strategic location in Bantry Bay sheltered as it is by the mountains on Beara it often a calm peaceful place.
You can walk (takes about three hours) or cycle the island, the route is clearly marked, there is a lot to see there from old military barracks to scenic views. If you want a more in-depth experience of the island you can book a guided walk with islander Tim O'Leary – who featured in TV3's acclaimed Islanders series – Contact Tim on +353 (0)86 862 6734.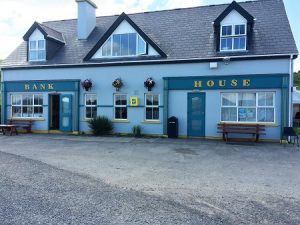 After your exertions you can cool off with a dip in the bay, dive in from the pontoons at the pier or better still, enjoy a drink and some lunch at the Bank House the only pub and place to eat on the island, while waiting for your ferry – see http://www.whiddyferry.com/ for ferry times. If you are relying on eating at The Bank House it is advised to call Kathleen on +353(0)86 875 5294 just to be sure that it will be open on that day.
Whiddy also runs regular week-long workshops as part of West Cork Literary Festival week in July and host performances as part of the excellent West Cork Fit-Up Theatre Festival in August, they set up a temporary theatre marquee next to the pub – See http://www.fit-uptheatrefestival.com/ for more details.
Eating and Drinking…
Cafés
Like I said, Bantry coming down with cafes and there a few stood out ones for me. There is the cool spacious Organico on Glenngarriff Road with their menu of healthy and tasty foods, all homemade with a strong vegetarian emphasis.  There is the odd non-vegetarian option too. For breakfast you can choose from a variety of novel healthy options. Organico would not look out of place in any modern city and Bantry is lucky to have such a cool place…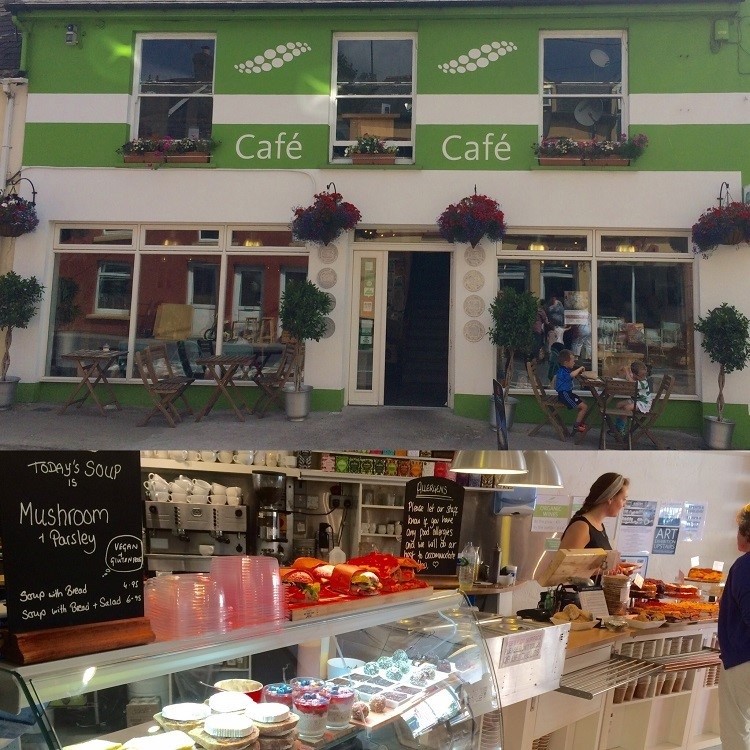 It is also a great place to bring your laptop or book and disengage for a while with a tea or coffee (which is good too by the way and sourced from artisan roasters in Wicklow no less). The owners and staff are very friendly and helpful, they may not always be the most focused when there's a rush on, but hey…  Next door is their health food shop of course, which is brim full of all sorts of life-enhancing goodie, at a price… see www.organico.ie for more information.
I also love The Stuffed Olive on Bridge Street which is also very popular.  Their coffee is the best in town, say all and I concur! The Olive is a lively atmospheric café offering a wide range of yummy fresh organic foods to suit all tastes, from wonderful salads to flavoursome meat dishes. The staff too are friendly, efficient and helpful. It can get packed at peak times and you'd wish it was a bit bigger, but it makes for a buzzy atmosphere. They don't seem to have a website so check out their Facebook page for more information.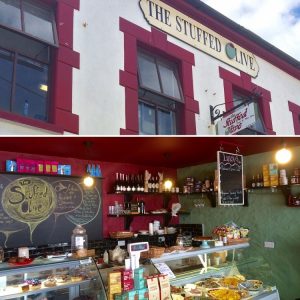 Another great café option is the imaginatively-named Box of Frogs on Bridewell Lane. This is a buzzing little place with a great atmosphere too. It is a good spot for breakfast and lunch with many reasonably priced options, they do a decent sambo and have different daily specials. It is also a handy place to meet for a coffee, tea and something sweet as its bang in the middle of town. The Box of Frogs also has a nice outdoor space and because it's up a lane-way this café 'oasis' has a somewhat 'European' feel to it, away from the traffic and hum of the town.
Two other cafés are worth a mention (I told you that there were loads!) De Barras Café opposite Wolftone Square is a popular family-run popular eatery offering good honest homemade food. Again, it can get a bit crazy at peak times. They do a mean fry-up and have a variety of good-value brunch and lunch options. Similarly, The Bake House in the middle of town provides decent enough breakfasts and lunches at reasonable prices, which makes keeps it busy.
If you are looking for something a little different then take a spin out to Manning's Emporium Laharn West, Ballylickey (when I hear or say it, it makes me smile) it is so worth it, a real treat for brunch or lunch. It is a bit of a West Cork institution and has been in the Manning family for 70 years. While the menu options may be limited at times what you get is top class. The place is small so can fill up easily and the friendly service, shall we say, moves at its own pace…
Manning's specialise in wonderful cheeses, many of which are local, and cured meats, even their sausage rolls are a delight. Their brunch menu often features excellent seafood dishes, Eggs Benedict and Florentine for example. Manning's have a wonderful selection of wines too. There's no nicer place in West Cork on a sunny day for a spot of al fresco dining while quaffing a glass of fine wine than here. They also host great Tapas nights too on Fridays and Saturdays. See www.manningsemporium.ie for more details.
Takeaways
Bantry has a great Fish & Chips shop too called Wharton's on New Street. The fish is always fresh, the batter crisp and the chips are chunky, golden and properly cooked. I have often been disappointed by so-called fish and chip shops in this country, some can't fry a chip properly, but Wharton's are good. The place is spotless and well run with good staff. There are also some pop-up takeaways in the town on Saturdays, selling Thai and other foods.
Restaurants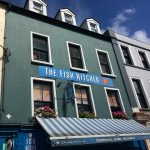 When it comes to restaurants sadly there are nowhere near as many options. There used to be only one stand-out seafood restaurant in Bantry but it has changed hands several times and the current reports are not favourable for the prices being charged, we've all had that Irish dining experience. For me there is currently only one place to eat seafood in Bantry and that's The Fish Kitchen on New Street. This medium-sized upstairs eatery is all about the fresh fish, and the best of local. It is one of my favourite fish restaurants in Ireland!
With its zero-fuss layout-out this upstairs space (above a fish shop, well…) is cosy, atmospheric and always buzzing with happy diners. The accommodating staff and affable owner (Diarmaid Murphy) help make this a special place. The wonderful aromas from the kitchen fill the air and prime the senses for what's to come.
There is always a great selection of seafood starters and mains on the specials board, and I have never been disappointed. It is all about cooking the fish properly and letting the wonderful fresh Black Sole, Monkfish, Turbot, Mackerel  or whatever it maybe 'sing on the plate' (yes, I am getting a tad carried away…).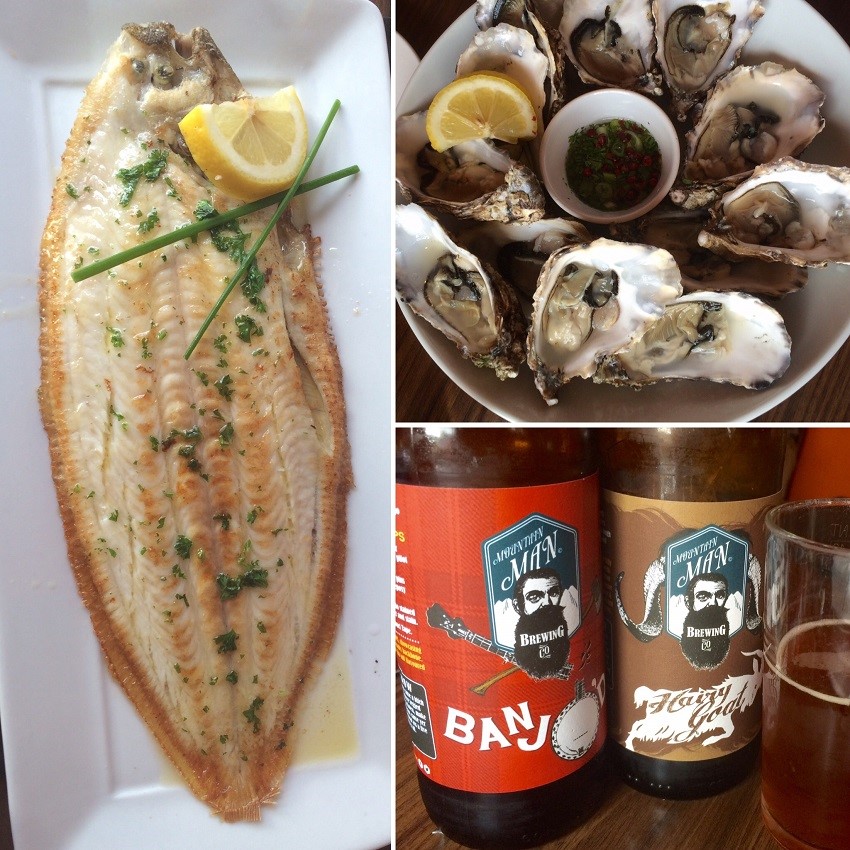 Oh, and they have a great craft beer menu too, we had two from West Cork's (always try local first) Mountian Man Brewing Company, their Hairy Goat English-style IPA and Banjo'd, an Appalachian IPA, and both were excellent. See www.mountainmanbrewing.com for more on them.
See www.thefishkitchen.ie for Fish Kitchen menus and times.
The best place for pub-grub is The Snug on the Quay. This is a popular well-run pub for great for evening and Sunday dining. If you like your steaks, pork, lamb and good fish and chips then this is the place for you. It gets very busy as well and best to book if at peak times.
If you fancy a good pizza and decent Italian food there's The Brick Oven also on the Quay. This is a lively place and very popular with families and the younger crowd. I can vouch for their pizzas, they are good!
Pubs and nightlife…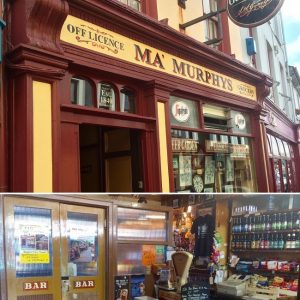 In terms of pubs, I have two favourites Ma Murphy's and The Anchor, both on New Street. Ma's is a classic Irish pub complete with old shop counter, they have a music lounge out the back and an extensive well laid out outdoor and smoking area. Ma's has the best selection of both craft beer (bottled and draft) in town as well as a diverse whiskey shelf. They regularly have great live music too.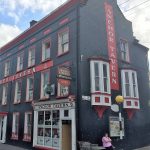 The Anchor down the street is a good bar too, and a local favourite. They often have live music the weekends and do the odd Cork craft beer too.
The Marnier on the Quay is a live music venue that has hosted many well-known Irish acts in the past and often features local singers and bands.
The Bantry Bay Hotel on Wolf Tone Square has a newly refurbished bar which has become popular and has music on the weekends, it too sells the odd craft beer. There is an adjoining Wild Nightclub if you want to boogie-on-down with the younger folk or hang by the bar, out of the way.
Local Festivals…
Bantry hosts several significant yearly festivals two of which are world-renowned, namely the West Cork Chamber Music Festival and the West Cork Literary Festival.
West Cork Chamber Music Festival
This nine-day Festival features daily concerts, masterclasses and talks. It attracts some of the finest chamber musicians in the world each year as well as throngs of very discerning and musically erudite concert goers again from all over. There are also instrument making workshops and the whole town is taken over during the rehearsals.
The magnificent Bantry House is the set for the main concerts along with the quaint single-aisle St Brendan's church. All the venues used for the festival in the town have an intimacy that is vital for chamber music especially Bantry House's candle-lit Library.
West Cork Chamber Music Festival runs July each year. See www.westcorkmusic.ie/chambermusicfestival  for details.
Masters of Tradition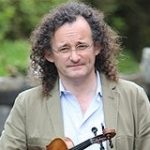 Started in 2003 the Masters of Tradition is a five-day festival held each August in Bantry featuring some of the leading lights of the Irish traditional music scene. The festival's Artistic Director is the Martin Hayes, the famed Clare fiddler, so standards are high. For more information check out www.westcorkmusic.ie/mastersoftradition
The West Cork Literary Festival
The West Cork Literary Festival is a week-long celebration of writing and reading which had its humble beginnings as a series of casual poetry readings and fringe events around the existing Chamber Music Festival. It has now established itself as a serious festival in its own right. Now in its 16th year, the Festival is growing from strength to strength attracting National and International writers and poets. See  www.westcorkmusic.ie/literaryfestival for more details.
Famous Banter-ees
Bantry was the birthplace of William Martin Murphy, a wealthy Catholic businessman and MP at Westminster. He gained notoriety in Irish history in his opposition to Jim Larkin and James Connolly and their trade union, the Irish Transport and General Workers Union, during the Dublin Strike and Lockout in 1913. A reviled figure by Dublin's working classes, he was also chairman of the Dublin United Tramway Company and owner of Clery's department store and Imperial Hotel. He also controlled the Irish Independent newspaper which is still printed.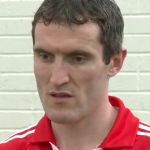 Bantry is also the birthplace of Tim Healy (1855–1931) a prominent and controversial Irish nationalist and first Governor-General of the Irish Free State. He was also a Home Rule MP in Westminster and led a faction of the party after it split in 1891.
Legendary 19th-century lightweight boxing champion Jack McAuliffe was born in Bantry.
Graham Canty and Philip Clifford, who have both represented the local GAA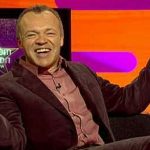 club Bantry Blues, and both went on to captain the Cork senior Gaelic football team. Rugby star, Colm O'Leary also hails from
Top BBC Presenter Graham Norton has a house on Sheep's Head and is regularly see around Bantry during the summer months.